Book Riot and the EveryLibrary Institute have teamed up for a survey that examines parents' perceptions of public libraries and book bans. The survey asked questions like, "Do you feel your child is safe at the library?" "How comfortable are you with LGBTQ+ characters and themes in children's books?" and "At what age should children have access to age-appropriate puberty and sexual education books?"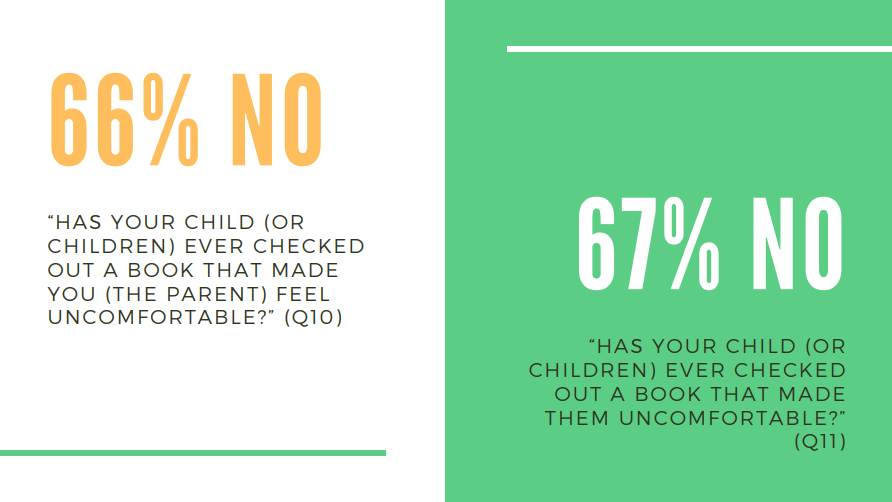 The survey found that most parents and guardians (67%) think book bans are a "waste of time" and 74% agree or somewhat agree that book bans infringe on their right to make decisions for their children; 89% said parents/guardians are the ones primarily responsible for what their child reads. 92% said they feel that their children are safe at the library, and two thirds said their child has never checked out a book that made them uncomfortable.
Not all results were anti-book ban, though. 49% agreed or somewhat agreed with the statement "Librarians should be prosecuted for giving children access to certain books."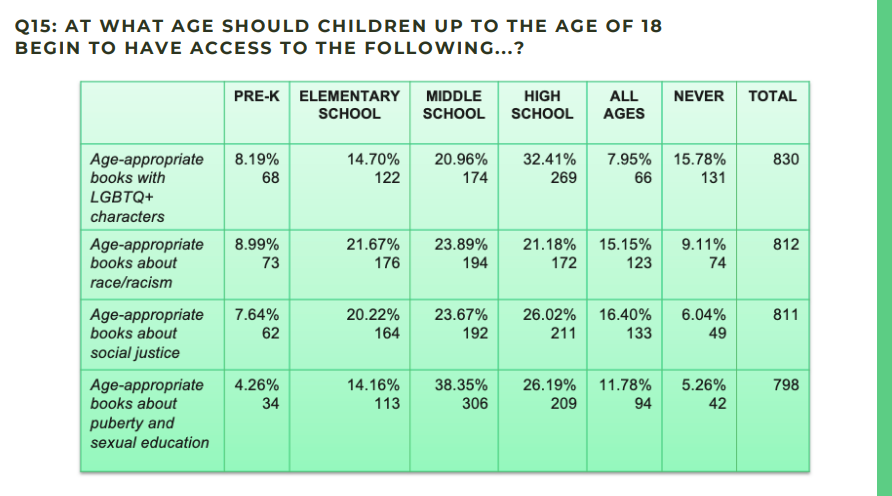 Another question asks when parents and guardians think children should have access to certain categories of books: LGBTQ books, books about race/racism, puberty and sexual education books, as well as books about social justice. Respondents were most comfortable with social justice books: 44% said children should be able to access them either at any age, Pre-K, or Elementary School age, and only 6% said children should never have access to them. Books with LGBTQ characters or themes fared the worst, with 16% of respondents saying children should never have access to them, even by high school. When asked what kind of impact LGBTQ books have on children, answers were split fairly evenly between positive (36%), neutral (32%), and negative (32%).
You can find the full results, including many more questions, at EveryLibrary. This is the first of three surveys focusing on parents and libraries, so check back for more throughout fall 2023.
Find more news and stories of interest from the book world in Breaking in Books.
Also In This Story Stream