I say without any sarcasm that celebrity memoirs are among my favorite books. I'm here for them in audio especially — but only if they are performed by the celeb. If they're done by anyone else, it is a crime. The last few years have been rife with excellent celebrity memoirs for those celebrities who are in my age bracket and came of age during one of the most brutal times to be young and famous, the late 1990s and early 2000s. This was also my coming-of-age time, so I feel a special connection, even if our lives are absolutely nothing alike. We've seen memoirs from Paris Hilton, Tamera Mowry, and Elliot Page, and I am already planning my vacation time around Britney Spears's memoir drop. I think is one of the few missing from my "must read" list at this point: Lindsay Lohan.
That's not to say that "must read" from Lindsay Lohan is out of the question. But it might be a while: in 2020, she was sued by HarperCollins for failing to deliver a manuscript she sold telling her life's story in 2014. It was settled for a reported $365,000.
LiLo has had a helluva life, and the profiles she gives to outlets are always fascinating. They both play into the "hot mess" stereotype/partial reality of her life, but they also hint at something more festering beneath the surface. Remember this absolute banger of a story about working with her on The Canyons in 2013? Then this year, we got this gem, highlighting how Lindsay is really ready to settle into her role as a grown up and begin a family. Maybe if she's truly pulled it together, we will see that memoir. Just…likely not from HarperCollins.
Whatever your feelings on Lindsay Lohan — and she's got plenty of marks against her as much as she's also been target of sexist media — she's had a bookish career. Let's take a look at some of her best bookish roles and maybe even some of her reading life.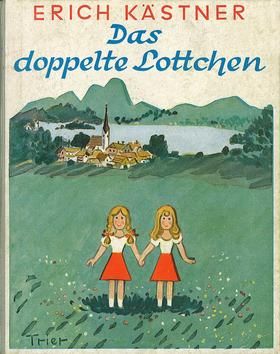 Lindsay's breakout role was not the book-inspired film you might be thinking of. It came even earlier than that. It was in the remake of Disney's classic The Parent Trap, which is based off the book published in English with the same name by Erich Kästner. The book's original name in German was The Double Lottie or, when translated directly, Lisa and Lottie. The history of this particular book is fascinating and worth a rabbit hole dive. In the film, Lindsay plays identical twins Annie and Hallie.
Lilo followed up her Freaky Friday work with a made for TV movie with the Disney Channel. Get a Clue was not based on a book, but Lindsay played the role of a teen journalist named Lexy Gold. She lived among the rich in New York City and dished up their stories to the high school newspaper, warring with the male editor to make a name for herself. Lexy then publishes a photo of one of her teachers, which gets picked up by the city's newspaper and then that teacher goes missing. You can kind of guess the next part: she and her newspaper enemy team up to solve the crime.
It always surprised me as a librarian to see the book Confessions of a Teenage Drama Queen by Dyan Sheldon sitting on shelves during the hey day of YA book adaptation. That was an early forerunner to the big blockbusters, and it starred none other than Lindsay Lohan. The book published in 1999, the same time some of the most well-known and canonical YA emerged, and Disney released the adaptation in 2004. It was pretty much panned by critics — again, how much was criticism and how much was the fact that it is a film for tweens and teens with a female lead? — but it did well at the box office. It came in second during its release week, which isn't too shabby!
Confessions of a Teenage Drama Queen hit screens just two months before the film that propelled Lindsay into the stratosphere: Mean Girls. Based on the book Queen Bees and Wannabes by Rosalind Wiseman, Lilo plays Cady, a new girl at a suburban Chicago high school, and the lengths she's forced to go in order to fit in with the cool kids.
The film was a major success and will celebrate its 20th birthday in 2024. It remains a cult classic.
Lindsay wasn't done with bookish adaptations, though. Two years later, she took part in the adaptation of A Prairie Home Companion, based on the story by Garrison Keillor. The film itself is a fictionalized take on the radio show's behind-the-scenes, and Lilo played Lola Johnson, daughter of the infamous Singing Johnson Girls.
We're going to pause here and take a deep breath. The years between 2006 and, well, 2020 were maybe not Lindsay's best. Among the films she made included I Know Who Killed Me, which is often ranked as one of the worst films ever made. Yes, I have seen it, and no, it's not great. This was also the time frame in which we get to see Lindsay struggle with her mental health, her family, and the reality of being in the constant paparazzi spotlight. She also filmed The Canyons during this era and played the role of Liz Taylor in Liz & Dick, as well as had a role in the bookish film Love, Marilyn (about Marilyn Monroe and based on Fragments: Poems, Intimate Notes, Letters edited by Stanley F. Buchthal and Bernard Comment).
Lindsay's comeback may not have been bookish, but it certainly deserves a mention. She starred in the Christmas film Falling for Christmas which released in November 2022. While critics again panned it — it's a romance and stars a female lead who has been considered a joke since the start — it did very well its opening weekend for Netflix. Rotten Tomatoes even called it one of the best Christmas movies of all time. The film found its audience.
Now that her bookish acting has been covered, how about her social media? Is Lindsay reader? It's not entirely clear how much she may or may not read, especially as much of her social media is curated to highlight her and promote her upcoming work, as opposed to giving a behind-the-scenes look at what she does or does not like. This means fewer sponsored posts or product placement posts than many celebrities, which is nice, but the downside is that we don't get to know much of what she might be engaged in or interested in, either.
That doesn't mean the girl doesn't read, of course. Just that we know little about what she's picking up. Some sleuthing through the past, though, brings up some potential literature in her life, including The Qur'an and Toxic Friends by Susan Shapiro Bush.
There are plenty of books about Lohan floating out there, but two worth mentioning here include The Bling Ring by Nancy Jo Sales — Lindsay was considered a huge target and "get" from the crime ring — and Trainwreck: The Women We Love to Hate, Mock, and Fear, and Why by Jude Ellison S. Doyle, about why it is so many young women celebrities become the target of mockery in popular culture and how that mockery does not help their well-being.
I'll be keeping my fingers crossed that as LiLo enters her parenthood era, she is able to sit down and stick to a deadline when it comes to possibly publishing a memoir. Britney's done it. Paris has done it. She can do it, too.
---
Love this? Hate this? How about dive into the literary life of Britney Spears. This one is a bit older, so she's definitely done a lot more reading and book sharing in the time since, especially with the end of her brutal conservatorship. And bonus: her memoir The Woman in Me hits shelves in October.