Wequassett Resort and Golf Club
Founded by John Barbour in 1894 to bring weather-resistant clothing to farmers and seamen on England's northeast coast, the classic waxed Barbour jacket holds a special place in British style. Beyond the quintessential 'country gent' attire, today the brand produces seasonal collections for lifestyle wardrobes across the board. In a fittingly fashion-forward partnership – one where adventure, luxury hospitality, and retail intertwine – Barbour recently partnered with the Double Forbes Five Star resort Wequassett Resort and Golf Club on Cape Cod for its first major hotel collaboration in the United States. 
The Barbour Field Guide Package
Built in 1925, Wequassett Resort and Golf Club is a luxurious waterfront estate in Harwich, Massachusetts. With picturesque Pleasant Bay as its backdrop, the 27-acre waterfront hotel is open year-round and provides an idal getaway for couples, groups, and families. The Double Forbes Five-Star property, which feels akin to a country inn resort, appeals to antique lovers and sports enthusiasts alike – making it a perfect fit to partner with Barbour on a special stay package that includes a seasonal "Field Guide" of outdoor activities celebrating the Barbour ethos and best of the destination throughout the year.
An adventurous outdoor itinerary paired with stylish Barbour essentials for the occasion, the Barbour Field Guide Package features a selection of seasonal outdoor activities tailored to Cape Cod – including special additional programming over Father's Day (Sunday, June 18) such as fly-fishing clinics – paired with fashionable "Barbour fits" for each occasion. Package perks include a Barbour welcome gift for two, a complimentary "Explorer" cocktail, and unlimited access to an onsite 'borrowing closet.'
In addition to outfitting hotel staff in Barbour uniforms and offering a curated selection of items in the gift shop, the Wequassett Barbour experience features The Borrowing Closet. Located next to the main check-in desk, assorted Wellington boots and waxed coats and jackets are available in several colors and sizes for men, women, and children to check out on a complimentary basis.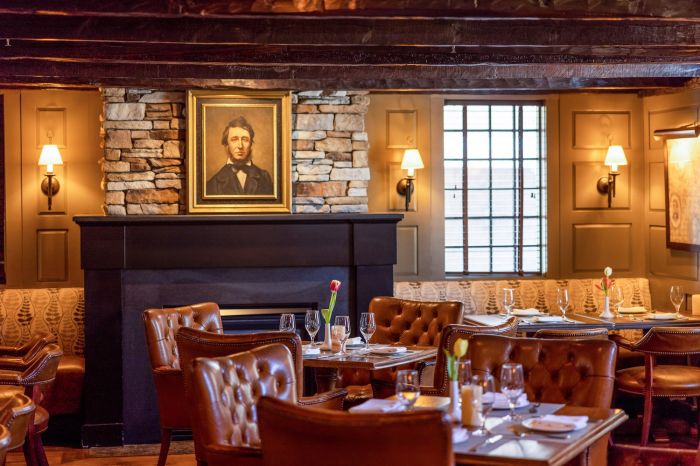 A Barbour-inspired Cocktail
Amplifying its Field Guide experience through custom elements, Barbour has weaved its brand into the food and beverage realm for the first time. The newest addition to craft cocktail bar Thoreau's drink menu is Barbour-inspired beverage the "Explorer" featuring Macallan Double Cask, fresh lemon juice, honey, Angostura bitters and an embossed lemon peel made with a citrus branding tool. While at the hotel's signature Forbes Five Star restaurant twenty-eight Atlantic new seasonal dishes grace the menu, including a black bass with chanterelles, fava and pistachio, and an Eton Mess - a traditional English dessert with strawberries, meringue and whipped cream that originated in 1893. Housed in an 18th-century sea captain's home overlooking Pleasant Bay and the Atlantic Ocean, it's one of the prettiest settings to dine out in New England.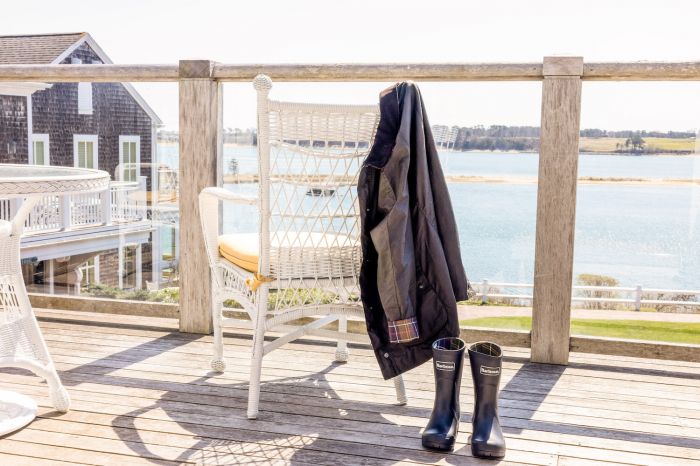 About Wequassett Resort and Golf Club
Accommodations at Wequassett Resort and Golf Club range from luxury suites to waterfront cottages, both of which are decorated in an upscale country style – suites come with fireplaces and marble bathrooms, plus small seating areas for relaxing – but both options have private balconies.Additional property highlights include four tennis courts, two outdoor heated pools, a children's center, five food and beverage outlets, a water sports center, and access to the acclaimed Cape Cod National Golf Club.Friendly staff can arrange various outdoor activities too – from swimming on nearby beaches to a tour of the famous Chatham lighthouse at the Coast Guard Station to a stargazing experience with a local astronomer. The resort also offers a free shuttle service from 6 a.m. to midnight, seven days a week for guests keen to explore the area.
The Barbour Field Guide package partnership will run throughout the year, with programming, activities, and gift shop merchandise changing seasonally. For more information, visit wequassett.com.
Photos courtesy of MJD Studios Photography