World travelers are likely familiar with the NH Hotel Group whose collection of more than 350 hotels and resorts spans 28 countries. Until recently, the Madrid-based brand eluded the U.S., but with the sparkling new and very swank NH Collection New York Madison Avenue, the company has made its North American mark, and the result is pure Manhattan. 
NH Hotel Group always places its establishments in fabulous and ideally-located areas of each city, surrounded by the most elegant and eclectic neighborhoods, and NH Collection New York Madison Avenue is no exception. Located at the corner of 22 E 38th Street and its namesake avenue, the hotel is steps away from one of the most central and vibrant areas of Manhattan. It is within walking distance of Grand Central Station, Times Square, the Empire State Building, Bryant Park, and Broadway, as well as shopping meccas Saks 5th Avenue, Bloomingdale's and Macy's Herald Square—not to mention Madison Avenue's most fashionable boutiques.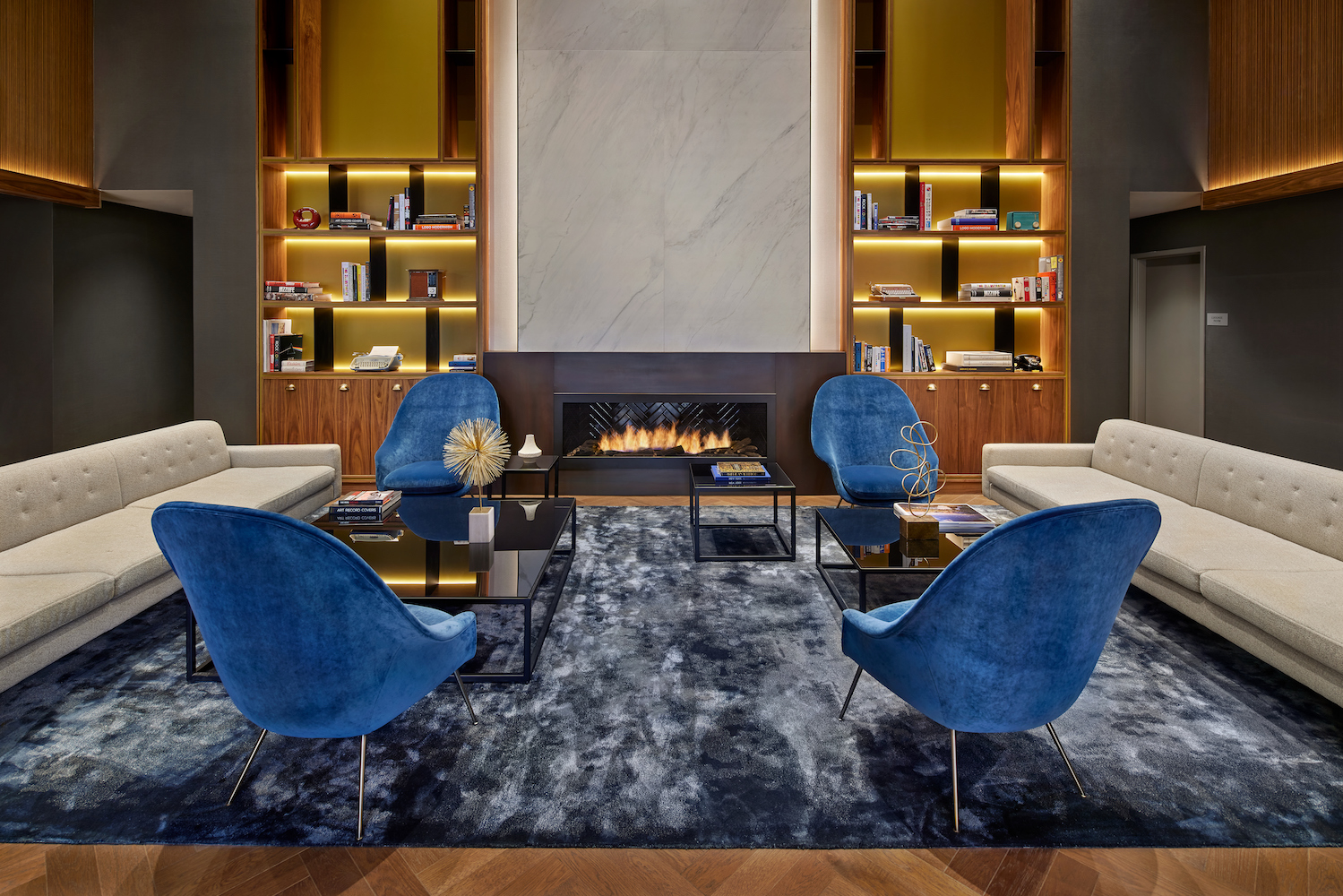 NH Collection New York Madison Avenue Lobby
Located in a historic 1920's Renaissance Revival building designed by renowned architects E. Murgatroyd & P. Ogden, NH Collection New York Madison Avenue fully embraces its location within America's original advertising industry corridor. Taking its inspiration from the storied ad agencies that once called this neighborhood home, the hotel and its Madmen-esque décor theme hearken back to the region's creative heyday. A nostalgic atmosphere is pervasive, from the common areas with low-slung furnishings designed to foster convivial experiences to mid-century period details of vintage art and artifacts that line the walls and bookshelves. The throwback vibe though is counterbalanced by modern amenities such as 24-hour room-service, a 24-hour desk manned by a highly-trained staff, Nespresso coffee machines and tea kettles in every room, and high functioning WIFI.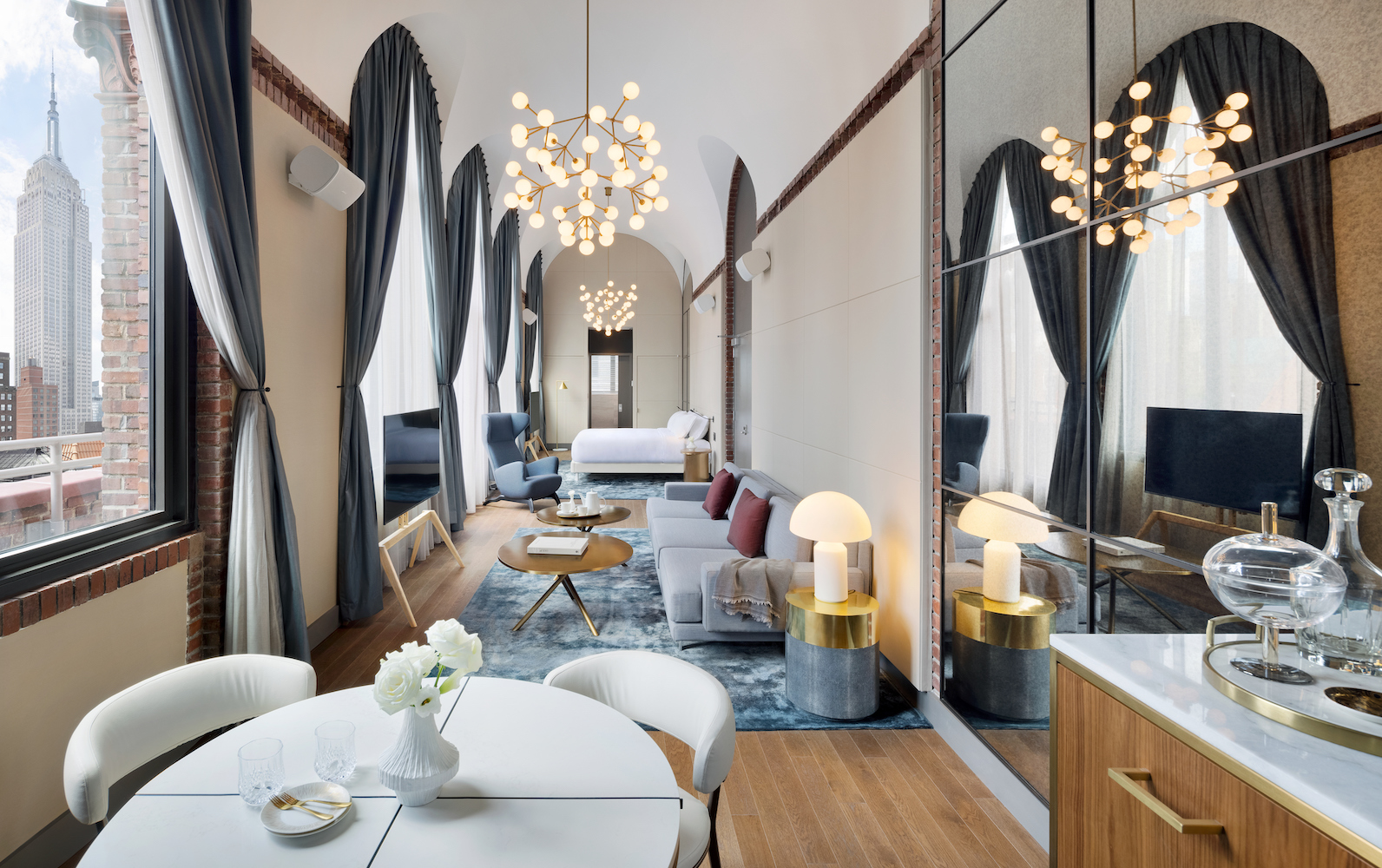 NH Collection New York Madison Avenue Presidential Suite
NH Collection New York Madison Avenue Junior Suite Terrace
281 rooms and seven elegantly decorated suites feature stunning city views; the 18th floor Presidential Suite, favored by visiting UN dignitaries, looks directly toward the Empire State Building. Pre-war brick walls contrast with the soft drape of flowing curtains, velvet furnishings, and plush bedding. A furnished terrace is the perfect spot for al fresco, in-room dining, delivered by the hotel's on-property restaurant Serafina. 
On the hotel's main floor and accessible from the lobby and its Madison Avenue main entrance, this Serafina is the newest of the brand's dozen New York City locations, and is by far the most elegant location yet, as implied by row upon row of softly illuminated rosé bottles that line the windows. The effect is mesmerizing. Lively and contemporary, the beloved Italian restaurant is the hotel's perfect match, featuring tableside pastas cooked in a parmesan wheel, freshly tossed tableside Caesars, salt-crusted branzino, a gloriously tiled woodburning pizza oven (where guests can enjoy slices at the counter), and a sumptuous breakfast buffet. The 110-seat space has been impeccably styled with lavish banquettes and a trademark marble bar.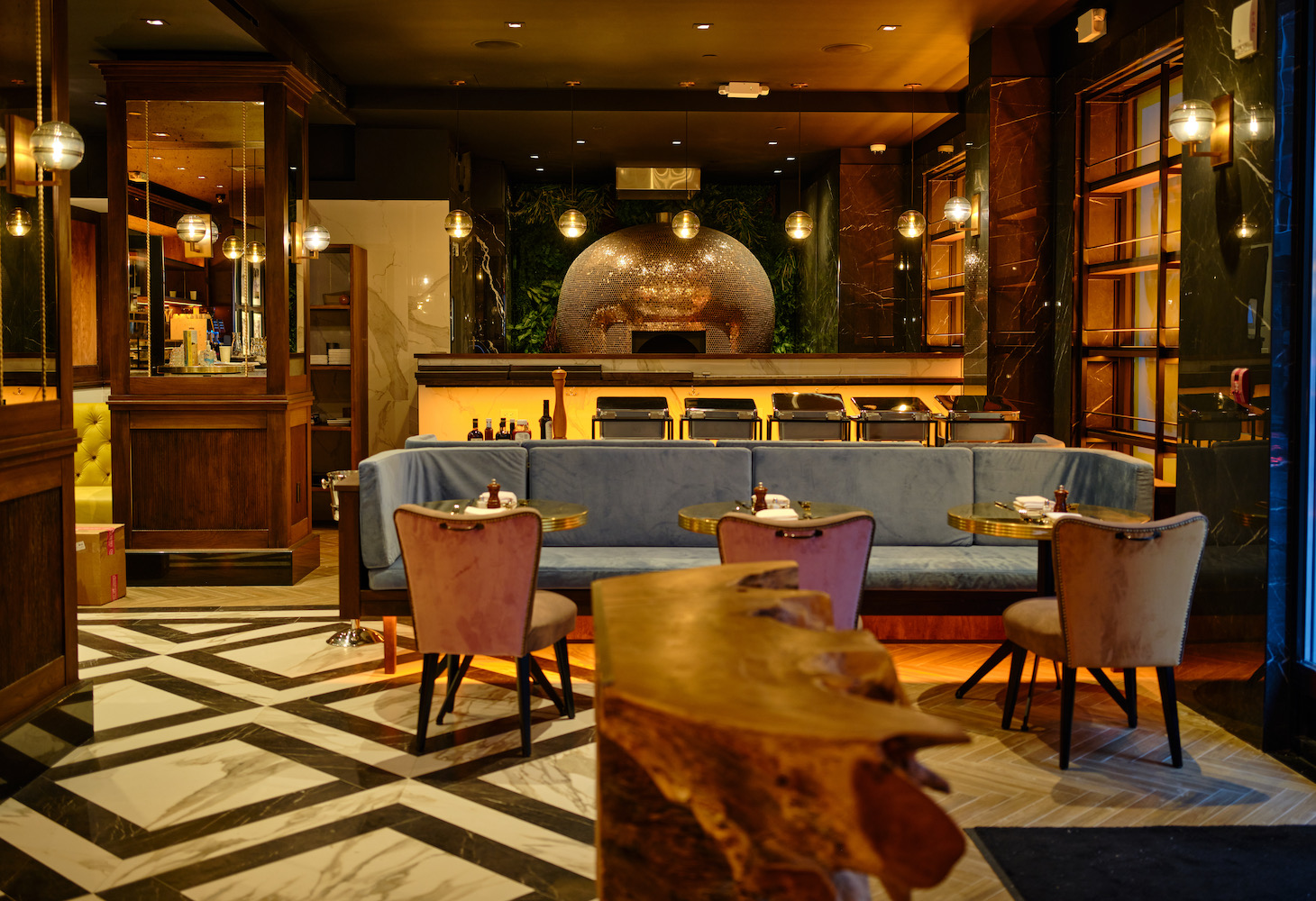 Serafina Interior
"The NH Hotel Group has a world-renowned global presence, as does Serafina, sharing several of the same cities as our restaurants," said Fabio Granato and Vittorio Assaf, co-owners of the Serafina Restaurant Group. "Here in New York City, we are happy and proud to offer our 25 years of experience in the Italian food and beverage industry to support the opening of NH Collection's first hotel in the US. We really hope this joint venture will be the beginning of a long partnership between The NH Collection hotels and Serafina, coming together for more exciting luxury hospitality opportunities in the future.' 
Additional libation can be found in the hotel's chic MAD Bar & Lounge where seasoned bartenders fulfill every guest's cocktail wish. The velvet bar-stooled space features live music three nights each week (Tuesday is piano, Wednesday is jazz, and Thursday is Latin jazz) and a corner is reserved for the hotel's exclusive Suite & Tea service featuring top-notch infusions from around the world (including the original Tea Gin & Tonic) accompanied by delicious sweet and savory snacks.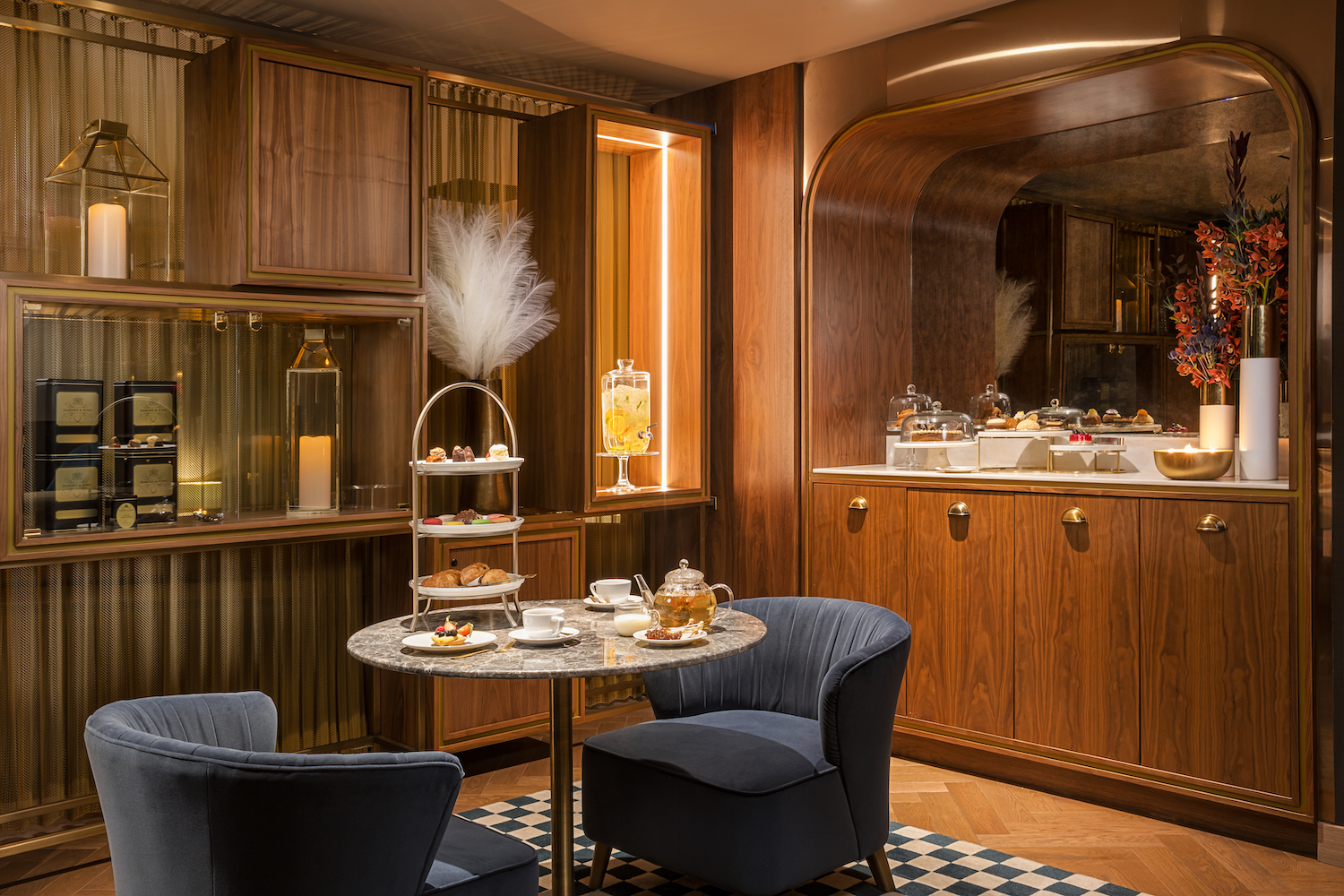 NH Collection New York Madison Avenue Suite & Tea Service
"We are very pleased to be marking this new milestone opening in New York, raising our value proposition in the city with the introduction of our upper-upscale brand, NH Collection," said Hugo Rovira, managing director for NH Hotel Group in Southern Europe and the US. "The new NH Collection New York Madison Avenue embodies the spirit of this concept in the broadest sense: exceptional and meticulous attention to detail, first-class services, innovative premium products and next-generation technology, combine to create an unparalleled experience."  
Photos courtesy of NH Collection New York Madison Avenue