(courtesy of Pine Ridge Vineyards)
Napa Valley provides an ideal backdrop for a romantic weekend for travelers to take a breath and unwind and enjoy fine wine, luxury resorts and top-class dining. The beauty of the countryside creates a quaint small-town atmosphere allowing couples to recharge and reconnect, relax and enjoy. Encompassing six towns (Napa, Calistoga, Yountville, St. Helena, Oakville & Rutherford and American Canyon), Napa Valley is home to over 500 wineries and tasting rooms, which take advantage of the Mediterranean climate, geography and geology of the region to present one of the premier wine regions in the world. Because there is a plethora of options available, this three-day itinerary will make sure that couples will spend an ideal romantic Napa weekend, with a lot of vino along the way!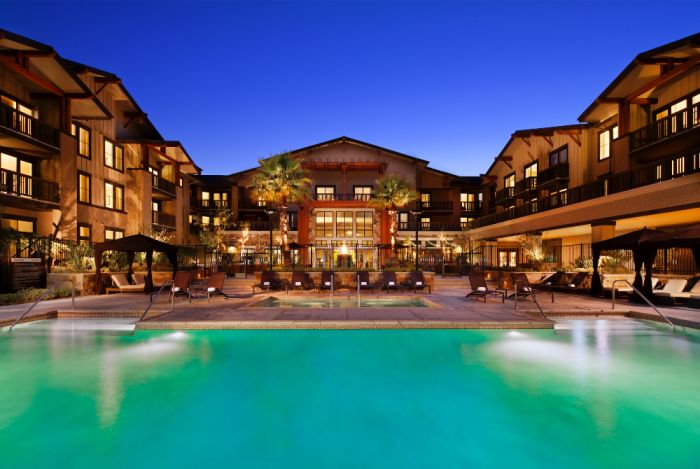 (courtesy of Westin Verasa Napa)
Friday
Arrive either at Napa County Airport, just five miles south of Napa, or by car, just an hour-and-a-half north of San Francisco and be welcomed by the fresh air and picturesque landscape of the Valley. Drop off your belongings at the Westin Verasa Napa, which blends downtown convenience with upscale comfort, and begin your romantic weekend off on the right foot. Just across the street from the famous Napa Valley Wine Train and down the road from Oxbow Public Market, its location allows guests to be immersed in the vibrant downtown retail and dining district just a five-minute walk away.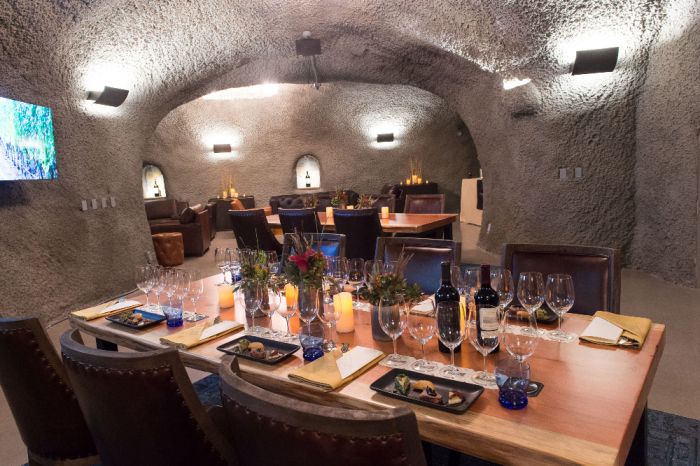 (courtesy of Pine Ridge Vineyards)
Saturday
When in Napa it is always wine-o'clock. After starting a blissful morning with a bite at Bank Café and Bar with gorgeous views of the Napa River, it is time to dive deeper into what makes the Valley truly special, its vineyards. 
Start your wine time at Pine Ridge Vineyards with their guided wine and food tasting Savor Pine Ridge experience. Producing expressive Cabernet Sauvignons since its opening in 1978 in the Stags Leap District of Napa Valley, Pine Ridge Vineyards' winemaker Michael Beaulac invites all to taste the poised and balanced flavors of the vineyard's wines. Hosted by wine educators, the Savor Pine Ridge experience takes place in the winery's intimate VIP tasting lounge, Cellar 47, providing a floor-to-ceiling view of the rock that makes up the hillside due to it being the deepest part of the winery's network of caves. This experience presents a tasting of five Estate Cabernet Sauvignon wines, each paired with small bites prepared by Winery Chef Susan Lassalette.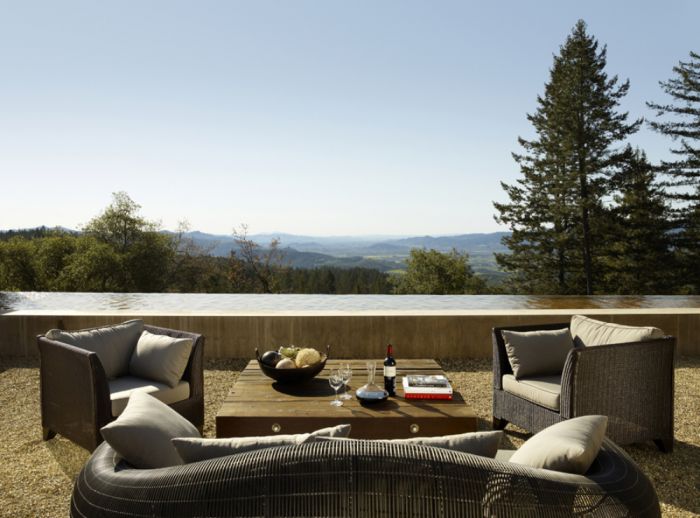 (courtesy of CADE Estate Winery)
A short 25-minute drive away, CADE Estate Winery is a unique, state-of-the-art facility perched high upon Howell Mountain along the hillside of Manzanita trees. Producing an enticing Sauvignon Blanc and rich Cabernet Sauvignon from estate-grown fruit, CADE produces its wines through an environmentally conscious process making it one of the architectural showplaces in the region. Bring a light jacket as due to its elevation, at 1,800 feet, conditions outside are much cooler which actually gives CADE's grapes the ability to ripen fully and evenly. 
While on the 21-acre estate vineyard, head to their tasting room which offers a selection of four wines in their modern tasting lounge, outdoor courtyard patio, winery terrace and custom-built cave. For those looking for a little more romance, its Library Tasting Experience in their historical 13th Vineyard estate property is not to be missed. With a faced of bricks and arched windows and doors, enter one of the oldest properties in all of the Napa Valley and enjoy library selections of wines and gain access to vintages that have not seen the light of day in some time.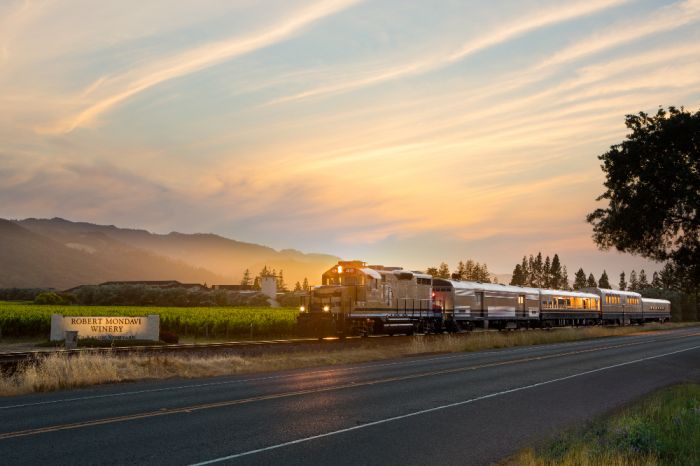 (courtesy of the Napa Valley Wine Train)
Step back to a time where trains were the means of transportation and enter one of the few active historic passenger railroads in the United States, the Napa Valley Wine Train, for a one-of-a-kind experience. Celebrate the best of what Napa has to offer with either the Legacy, Collective or Estate tours, which include a four-course Napa Valley-style and tastings at three of Napa's iconic wineries. Be transported back to the glory days of train travel and sit back for an engaging and memorable experience with the Vista Dome Car package and enjoy a journey on an elevated observation-style dining car passing vineyards of world-renowned wineries.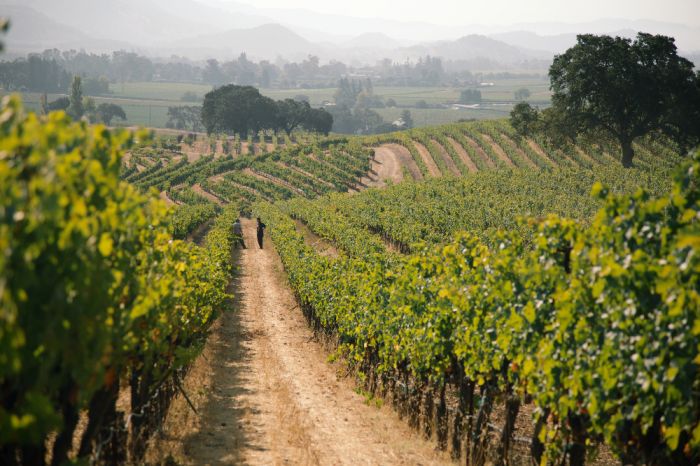 (courtesy of Quintessa)
Sunday 
Bursting with things to do, take advantage of nature and the valley's surroundings with a multitude of offerings to start your morning. Experience Napa up close with Napa Valley Bike Tours or put on matching plaid and test your metal at one of Napa's golf courses. A couple other fun activities which can be booked include private flights with Calistoga Balloons or a lovely ride with. Take advantage of the hotel's outdoor pool and relax under prior to finishing the winery tour trifecta.
Located in the northeastern corner of the Rutherford Appellation, Napa Valley, Quintessa is a 280-acre estate which has 180 acres planted to Cabernet Sauvignon, Merlot, Cabernet Franc, Petit Verdot and Carmenere. Inclusive of a valley, a lake, a river; five hills, four microclimates, and many soil types, it is one of the most scenic properties of the Valley and makes use of organic and biodynamic farming for all of its wines. Through its façade of stone, the state-of-the-art wineries roof also doubles as the crush deck where grapes are sorted before being funneled by gravity to fermentation tanks in the lower section of the winery and aged in French oak barrels. Offering The Estate Tasting Experience and Quintessential Quintessa – which provides guests with the rare opportunity to taste barrel samples selected from the estate's 26 distinctive vineyard blocks, in addition to two vintages of Quintessa – tasting experiences are privately hosted and customized for each guest.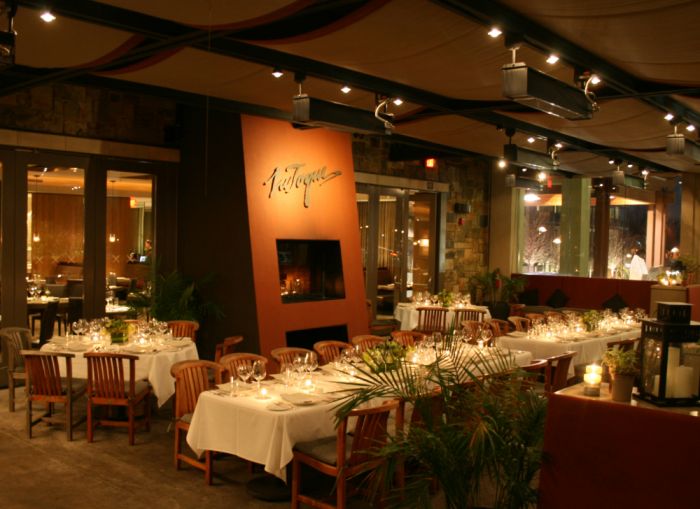 (courtesy of Westin Verasa Napa)
Finish your romantic weekend with a candlelit romantic dinner at La Toque, which features a menu of contemporary French cuisine created from the region's rich bounty of seasonal, fresh foods sourced from a network of local farmers and purveyors. As one of only 84 restaurants in the world with a prestigious Wine Spectator Grand Award, La Toque offers three different menus nightly highlighting seasonal ingredients at their peak. For the ultimate La Toque experience, choose a front seat with The Chef's Table Tasting Menu, a pre-selected menu of nine courses including six savory dishes, cheese and two desserts.