Quintessentially founder's new app Kindred gives back to conscious consumers with every transaction
London, 11 December 2019: Kindred, a new platform that digitises word-of-mouth recommendations on social media, has raised £2.25 million in seed capital investment and has a £35 million valuation pre-revenue. Board investors are Richard Laxer, ex-President of GE Capital, and Dan Bricken, ex-International President of Wells Fargo M&A.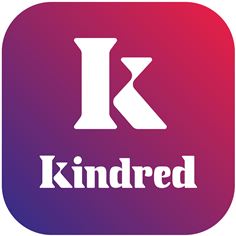 Kindred logo
Kindred, which launched in October, creates new direct sales for brands, enabling them to build brand communities for free, and generates funds for charity. Its unique ability to attribute actual sales to specific app users promises to change the influencer marketing model by creating greater transparency based on a peer-to-peer model.
Kindred skilfully digitises and harnesses word-of-mouth recommendations on social media channels with specially-created codes to generate direct sales for brands and offer customers the best deals. It responds to the increasing need from consumers who want to save money on everyday purchases and do good as they go about their daily lives: every single transaction will benefit a charity of the user's choice.
The app, which is available now from the Apple App Store and Google Play Store, is free to join and is the first of its kind to seamlessly connect brands and influencers with charities directly on social media. Influencers – or 'Advocates' as Kindred like to call them – with followings of any size can join the platform by downloading the app and creating an account. They then share what they love on their social media channels.
Using a 'pay per sale' approach, brands pay commission on any sales made as a direct result of an influencer's partnership with Kindred. A percentage of the commission made from every sale is donated to a charity of the influencer's choice, meaning that brands are able to reach new audiences and attract new customers while contributing to their corporate social responsibility initiatives. Because the app focuses on sales rather than follower numbers, brands are able to accurately track and measure the results of the influencer's activities. Kindred works across all social media platforms and it doesn't rely on influencers with large followings: instead it believes that peer advocacy often leads to purchases.
It has taken just six months to develop and launch its app. Thousands of brands – including Jimmy Choo, Gillette, ASOS, Pets At Home, Missguided and Boohoo – have already signed up to the platform and hundreds of campaigns are live, ready for users to share. Kindred's first charitable campaign, in October, was Blokes in Bras, which encourages men to stand up and show support for the women in their lives by donning a bra on social media for Breast Cancer Awareness Month.
Kindred is the brainchild of luxury concierge service Quintessentially's founder, Aaron Simpson. He commented, "Kindred enables its users to share what they love and make genuine recommendations on their social channels, whilst promoting significant savings on some of the world's top brands and local stores. As people accept those recommendations, a percentage of those sales goes directly to a charity of choice and to the "advocate" should they so choose. Kindred is the new way for brands to engage directly with customers and harness the power of respected and authentic word-of-mouth endorsements that people make every single day. Kindred is creating the new global community of conscious consumers and we are directing millions of pounds, dollars and euros to the world's most needy causes in the process."
COO Mike Gadd added, "Kindred does something very simple, as it taps into two prevailing trends: a concern over how we consume as a society, and a growing scepticism around paid-to-post "influencer" marketing. For brands, Kindred is a new, authentic and direct link to customers and for charities it's an amazing and original way to get straight to a younger audience – who very much want to contribute and are demanding this shift to conscious consumerism."
– Ends –
Notes to editors:
For media enquiries, please contact:
Kate Gordon, Bright Spark PR for Kindred
T +44 (0)7980 921961
E [email protected]
About Kindred
Kindred was formed in 2019 by Aaron Simpson. The London-based start-up has more than 50 people employed globally. Kindred was created in response to the fact that Millennial and Gen Z want brands to be ethical and increasingly expect this to gather their loyalty. Kindred addresses the three key elements of this: influencers, brands and charities.
For influencers, authenticity, transparency and personalisation are key. The sales landscape has changed. The term influencer has become too broad and with sometimes negative associations, the phrase 'influencer fraud' is gaining more and more traction. Influencers without authenticity run the risk of going out of fashion. Influencer's profiles are being duplicated, many are being scammed, and they have to do their own administration with brands. Kindred is all about 'advocates', as their words count and demonstrate direct ROI power.
For many brands in the retail space, the world has moved beyond them. Legacy brands are finding it very difficult to keep up and be relevant to today's consumers. Many brands jumping into the influencer market have been burnt because there are no true ROI metrics on marketing and PR spends. Influencers are charging significant fees to endorse brands and, at present, there are no real regulations or safeguards in place.
Charities need to constantly raise money and many have lost the tools to connect directly with those able and willing to donate. They are in a post-GDPR, post-Haiti scandal legacy business and need to adapt into the channels of today. On the flip side, more and more consumers want to give back and be in control of their own personal responsibility.
For more information and images:
Kindred for influencers: https://event.kindred.co/shop-share-earn-give
@kindred_social; https://www.instagram.com/kindred_social/
Mike Gadd, COO
M: +44 (0)7988 635544
E: [email protected]