As seen on CHCH Morning Live, I visited the show to share with their audiences my Holiday Style Edit for Swagger Magazine. I know, the Holidays are hectic at work, and at home–with all the parties, events, dinners and more. So we pulled together this guide to take the guess work out of planning your outfits for the season.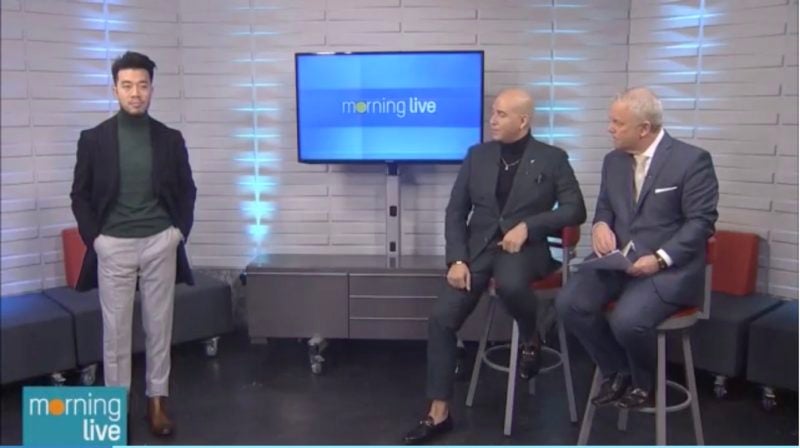 Before we dive right in, something I find is happening more and more often, is either made-up or unofficial party dress codes. No more guessing! ???? Check out my breakdown here.
Semi-Casual Holiday Look
Whether for your Company's Casual Holiday Dinner, or a family Holiday dinner. Maybe even just to simply to get together with friends after work over the Holidays. This Semi-Casual look should cover it all. During the Holidays, it's the one year that people tend to step out of their comfort zone, maybe change things up, and are very much open to something different. Whether it be different colours, textures, or even fits.
Here I put together a simple outline of what we at Swagger think is the ideal Semi-Casual Holiday Swagger.
Top Coat
A top coat is the perfect way to dress up a look. If you're arriving at a casual drinks night, or dinner, you will arrive in style and still be able to take it off once you're inside and still feel comfortable, and confident, that your Swagger is on point. ????
Turtleneck
I'm a firm believer that turtlenecks are the new fall/winter staples of a man's closet. They're comfortable, cozy, and yet can be styled-up with a blazer or even a waist coat, or just kept as is for a more casual, yet stylish look. Splurge for a cashmere, or cashmere wool blend, and you can thank me later. Just make sure read the label and care for it rather than just tossing it in with the rest of your sweaters. Lastly, don't be afraid to go for a holiday palette. Realistically, maroon and wine color tones have become more and more part of a standard fall/winter palette, but for the Holidays, why not bridge into the new hottest color of the season this year, Forest Green. Dark enough that you still look sleek and sexy, but yet vivid and has a great look to it. Feeling a little more classic, or pairing it with something that you want to pop-put, then stick to a black, grey or even ivory.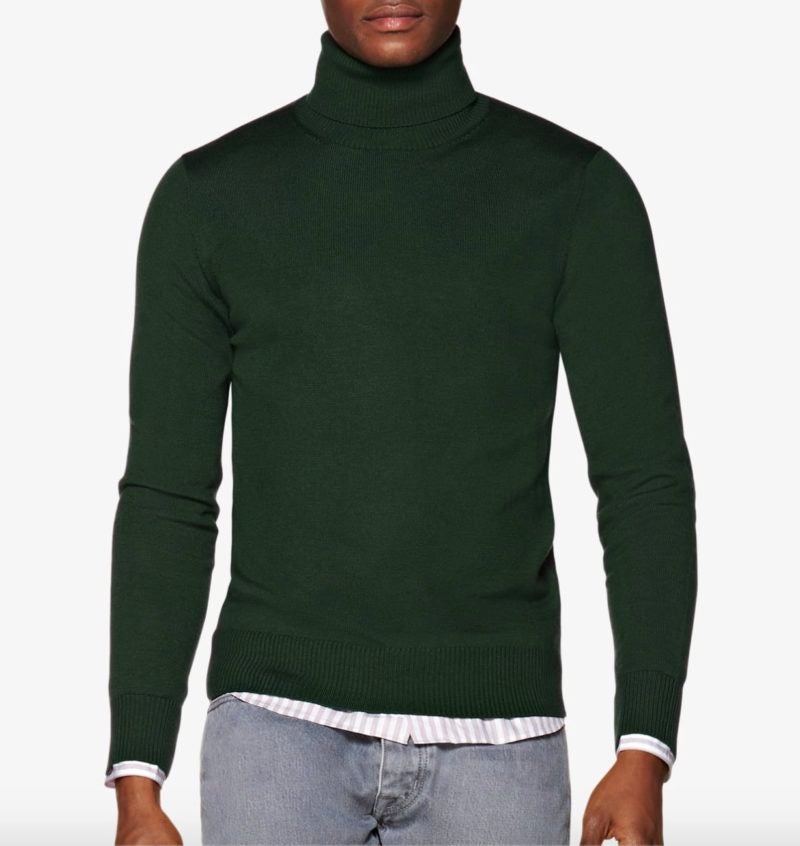 Trousers/Pants
As you and I both know, theres one other thing the Holidays are about, if you didn't already notice the common denominator above… but the Holidays are for feasts! So why not look at something "adjustable'? Luckily now, you don't have to feel bad about something comfortable and adjustable like a track pant. Brands like Club Monaco, Suit supply, and Topman have some amazing options. Either tuck in the shirt and showcase the draw string, or keep it tucked by hiding them behind your untucked sweater.
Shoes
With the way the weather has been looking, and it's only about to get worse (for some of us), so versatility, comfort, but yet sexy, is in order. And if you know, you know, and Chelsea boots have been the best thing for men since sliced bread… ok ok, maybe not that much but they have definitely changed things up. They come in more stylist, and some more rugged options, but many right in-between. Get them sprayed and prepped, and get them waterproof too.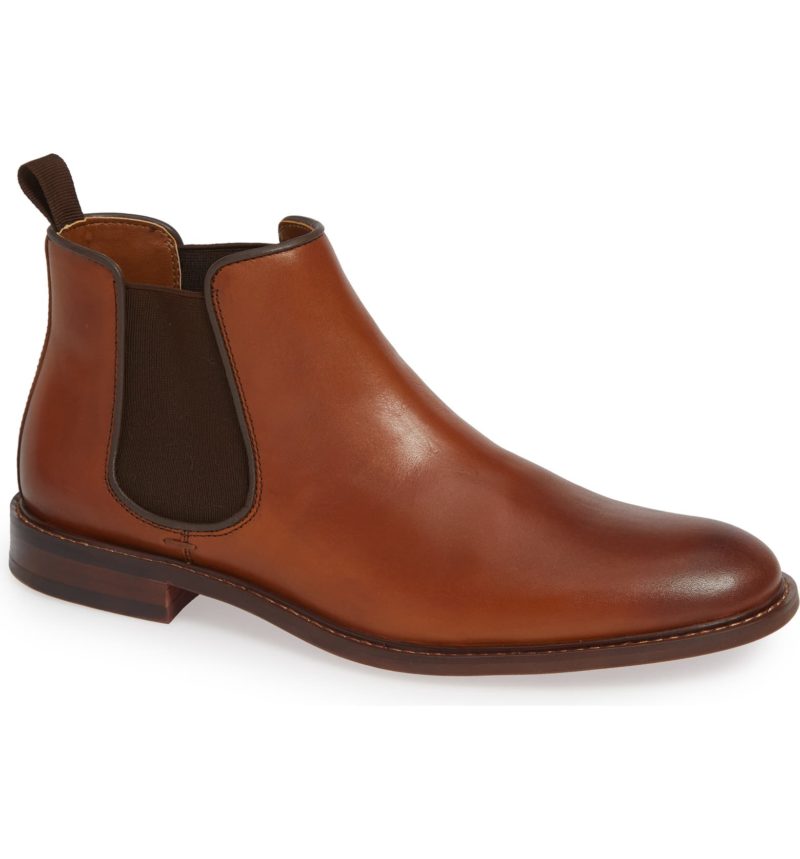 Smart Casual Holiday Look
This is a spruced up casual look. Think Friday's jean day outfit to work, but slip on a jacket and away you go. Not quite with sneakers, but with loafers or a nice brown lace-up and you're good to go. The key here is fit. Whether it's a jacket from one of your suits, a smoking jacket, or anything in-between, never under estimate the value of good old tailoring. Either you bight it like that from the start, or for those of us in-between sizes at the moment, just have it taken in. A little half inch here and there goes a long way.
Blazer
This season colors are in. From the beautiful maroons, wines, and other red tones, to the evergreens, forest greens, oliver greens and more. They're festive but they could still look good all season. Just don't pair the red and green together and you'll be okay — not all of us can pull of the Fashion Santa look. ????
White shirt
With this look, of course you could keep it simple and go with a turtleneck or crewneck sweater or even a t-shirt. But if you really wanted to keep it looking "smart," a collared shirt goes a long way. Especially when it fits! Make sure those sleeves are just long enough to rest at the tip of your thumb's wrist bone. This way it can peek just below your jacket, pull back when you stretch, but not look too long either. Also, don't forget your collar stays to keep that collar looking perky. You'd be surprised what a difference those things can make.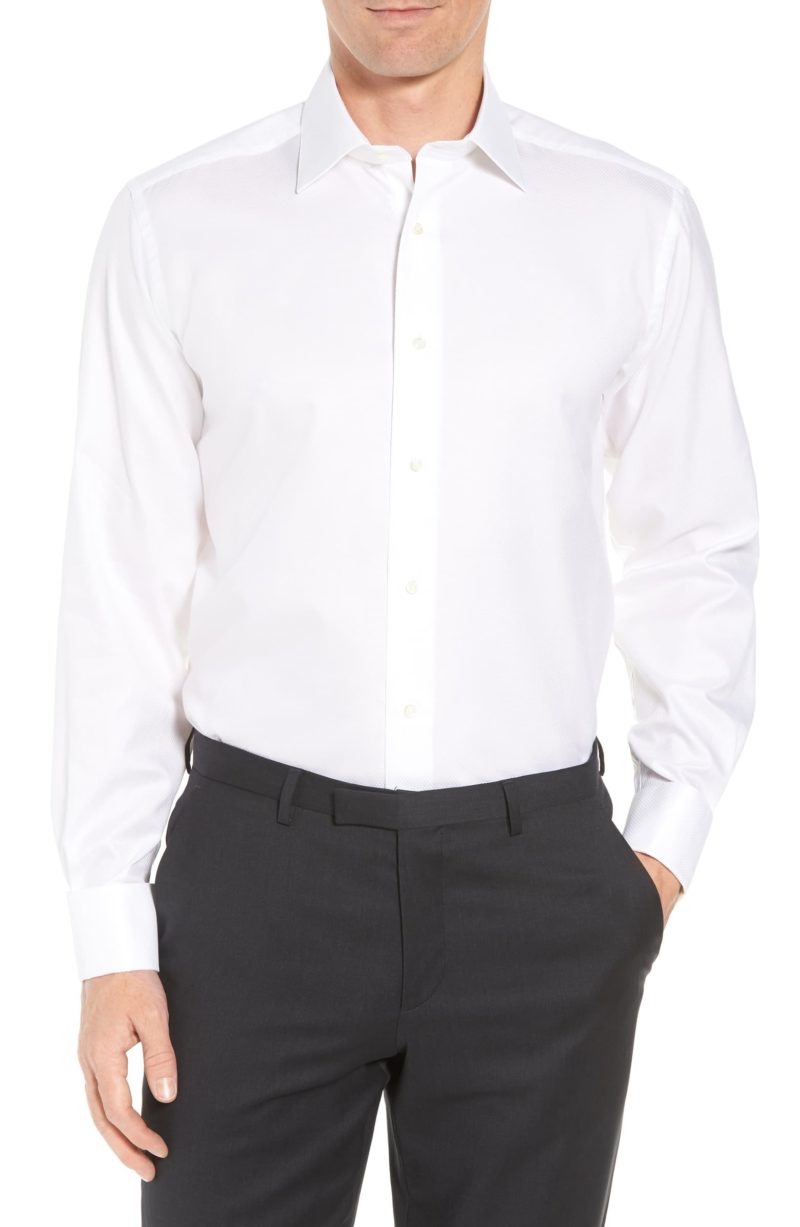 Dark Wash Denim
We know, you're likely popping into this party, or holiday dinner just after work. And who want's to be cooped up in dress slacks one more day of the week… Instead, put on some dark denim Levis 511s, and you will be set. These babies look great casually, and even better dressed up. Super versatile, with a little stretch, and the perfect look for both occasions.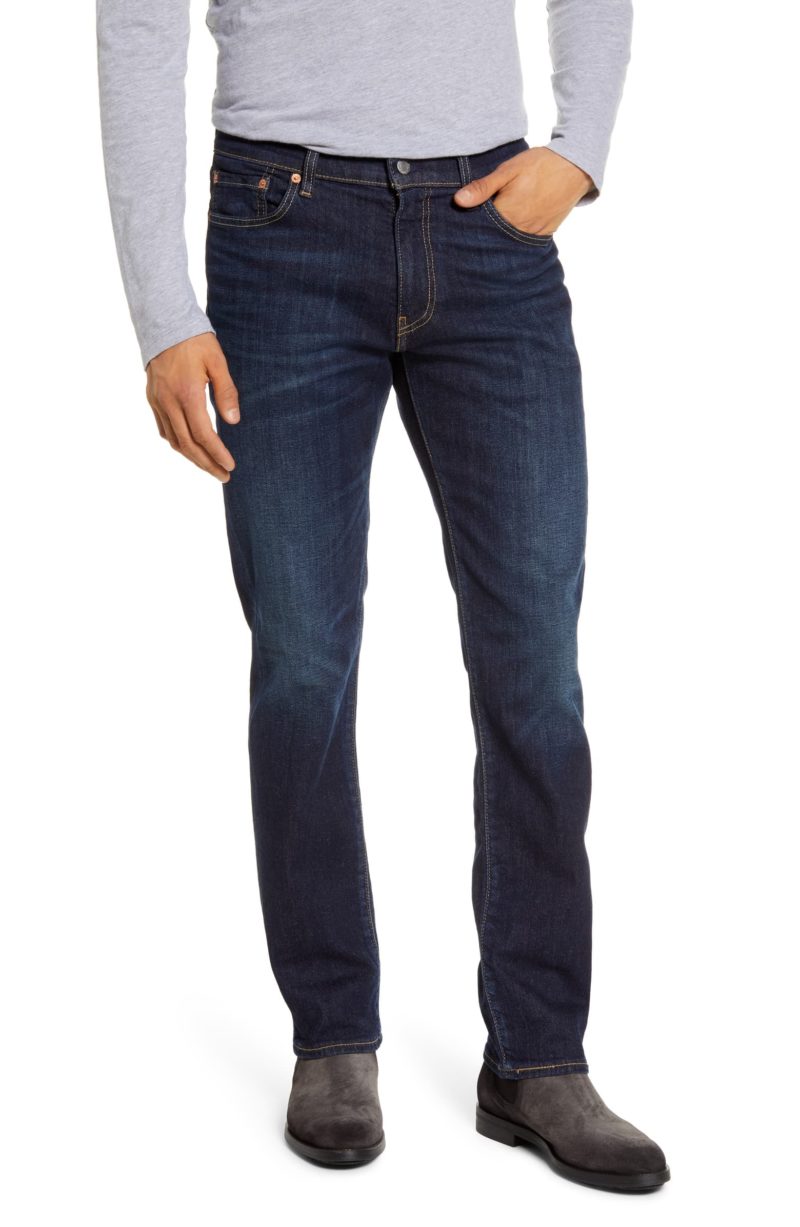 Shoes
Although you could have also pulled off a nice loafer, here we thought to suggest a classic brown lace up. Because we all know you have at least one in your closet. Or if you don't, you should.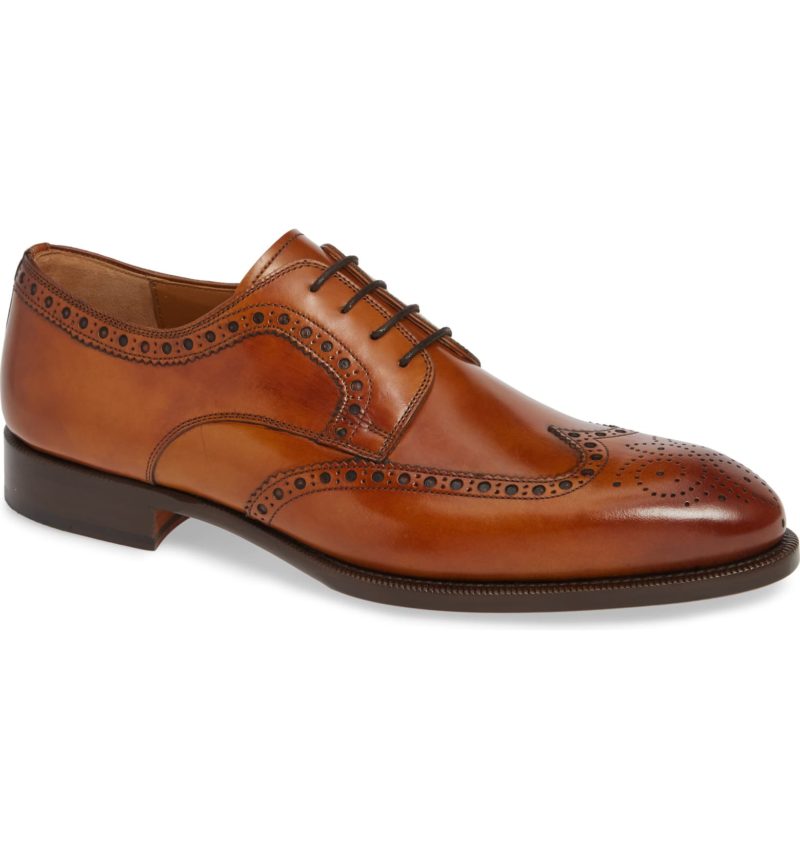 Accessories
Lapel pins are so underrated. If you know me, you know I have an obsession for accessories. I sometimes even manage to pull off a tie clip as a lapel pin too (pro tip), you just might need to wear it on the right side so it doesn't end off upside down. Try wearing contrasting colors, silver, gold, maybe even a feather, or two. If colored try to do something that contrasts against the jacket colour. In this case, the green peocock goes so well with the maroon.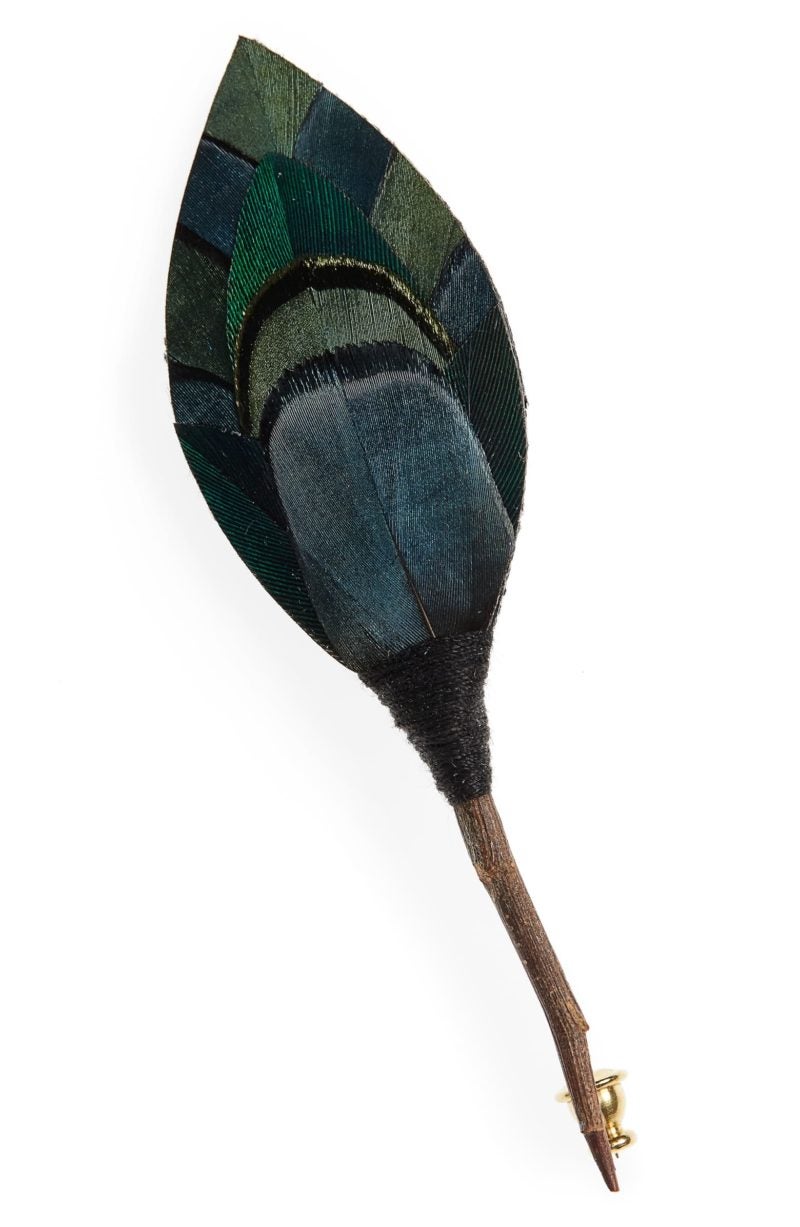 Fashionable Casual or Cocktail Chic Holiday Look
Want to look spruced up but with a hint of fashionably casual? The perfect way to do that is pairing a beautiful suit, with a classic clean loafer or white sneaker. Layer it with a turtleneck and you got yourself the perfectly casual look. In this case, I fell in love with this beautiful forest green suit. Mark my words, it will be the color of the season! It's popping up everywhere, and looks amazing too. Whether you want to go monochromatic, and do tone on tone, or simple with a black one… we had some fun with this light brown or cream coloured turtleneck. Need an extra layer? Put on a dress shirt underneath a let it stick out a bit. Fall/Winter is all about the layers! But make sure you won't be sweating it off half way through the night — no one likes a sweaty mess!
Custom Tailored Suit
My number one suggestion for this one is definitely a custom suit. Now a days you can get them as early as 2-weeks or more–and at every price point. Indochino has them at a bargain, Nordstrom has in different price ranges too, for less than $1000. Here we featured the forest green like I mentioned, but you could easily do something toned down, or even tone it up a notch with a velvet suit. No, not a velvet track suit, a velvet suit. Tiger of Sweden has a couple of great options.
Turtleneck
Unless you do well in high temperatures, I suggest you go with something light–or surprisedly the chunkier knits tend to air out well too. Cashmere and wool is great, but not when tucked away under a suit. So beware!
Shoes
These classic red and green striped loafers from Gucci are an iconic touch. Recognizable, yet not over the top. Perfect to compliment that festive look. These ones even have a fold down back, so if you feel like making them slippers by the end of the night, you could do that too. Just make sure it's not before you leave the dance floor… or the party, for that matter. Keep it classy and keep them on properly until you head home for the evening.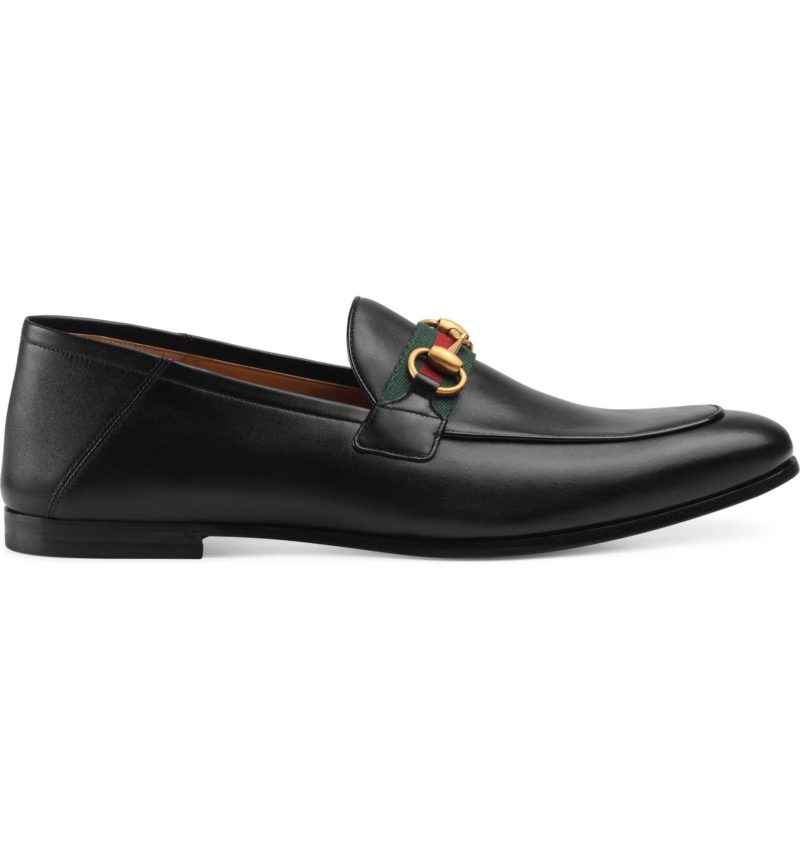 Accessories
For this look, we threw on a custom silver lapel pin to embelish the look a little, but also tie clips can be very useful to take things up a notch. Also, for the custom suit, we had white silk used on the lining which was carried thorough to pocket so we were able to just pull it out and fluff (pro tip), and away you go. ????
Formal, Black Tie Holiday or NYE Looks
Now we're talking! These are the looks for that evening when you're looking to make a statement. Afterall, Swagger means confidence. For those of you open to being bold, don't be shy to step outside the boundaries and go with some colour. I know, for black tie, play it by ear, you don't want to be that guy that shows up in mustard within a sea of black and white. But for NYE for example, a mustard jacket like this one with a satin lapel would look quite snazzy.
Blazer
Pops of color are in. Mustard, Maroon or wine, dark teal, evergreen, forest green, even royal blue. Maybe even something with some glitz like a silver sequin jacket with a satin lapel. I dig it. They really will light up the room when you hit the dance floor. But for those of you looking to be a little more conservative. A nicer textured velvet jacket with ideally a satin lapel, will be soft to the touch, and great on the eyes too. Pair that baby with a textured bowtie like we have here, and a trouser with some satin piping… and you have yourself the perfect texturized look that will them (or the one), feeling you up all night. ????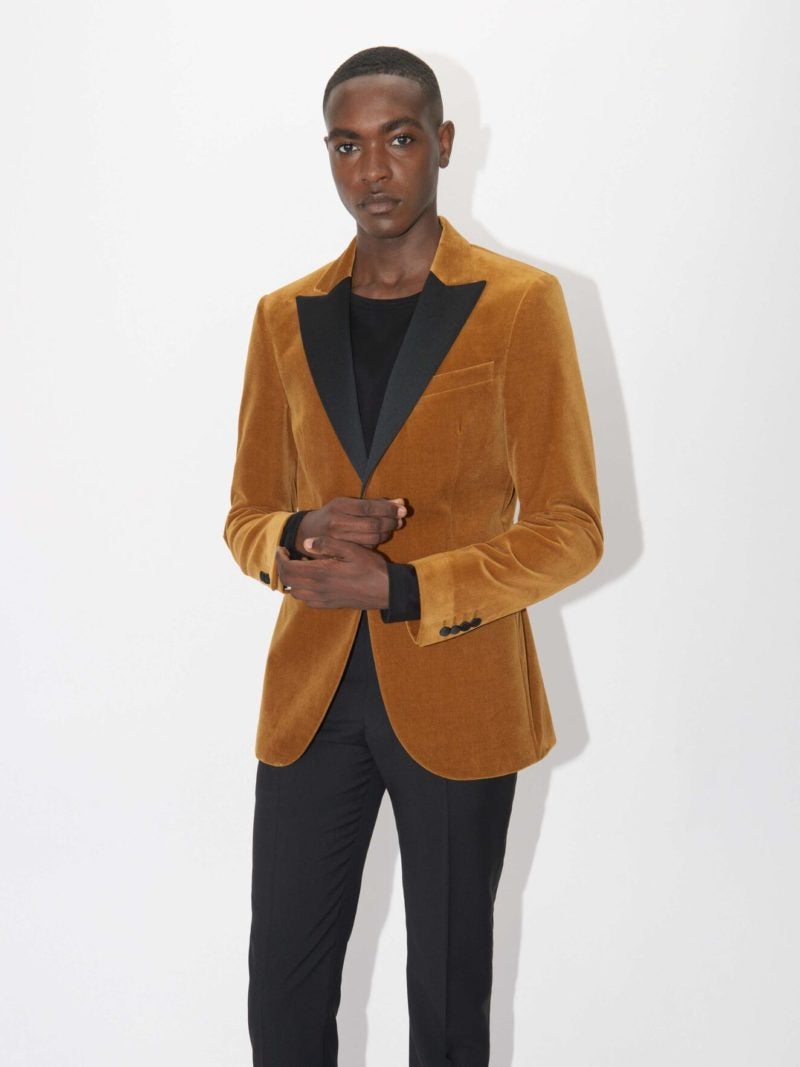 White shirt
You could always go with your classic white shirt, but if you are open to dressing it up, a tuxedo shirt really does make a difference. From the buttons to the collar, it will definitely take the complete look up a couple notches.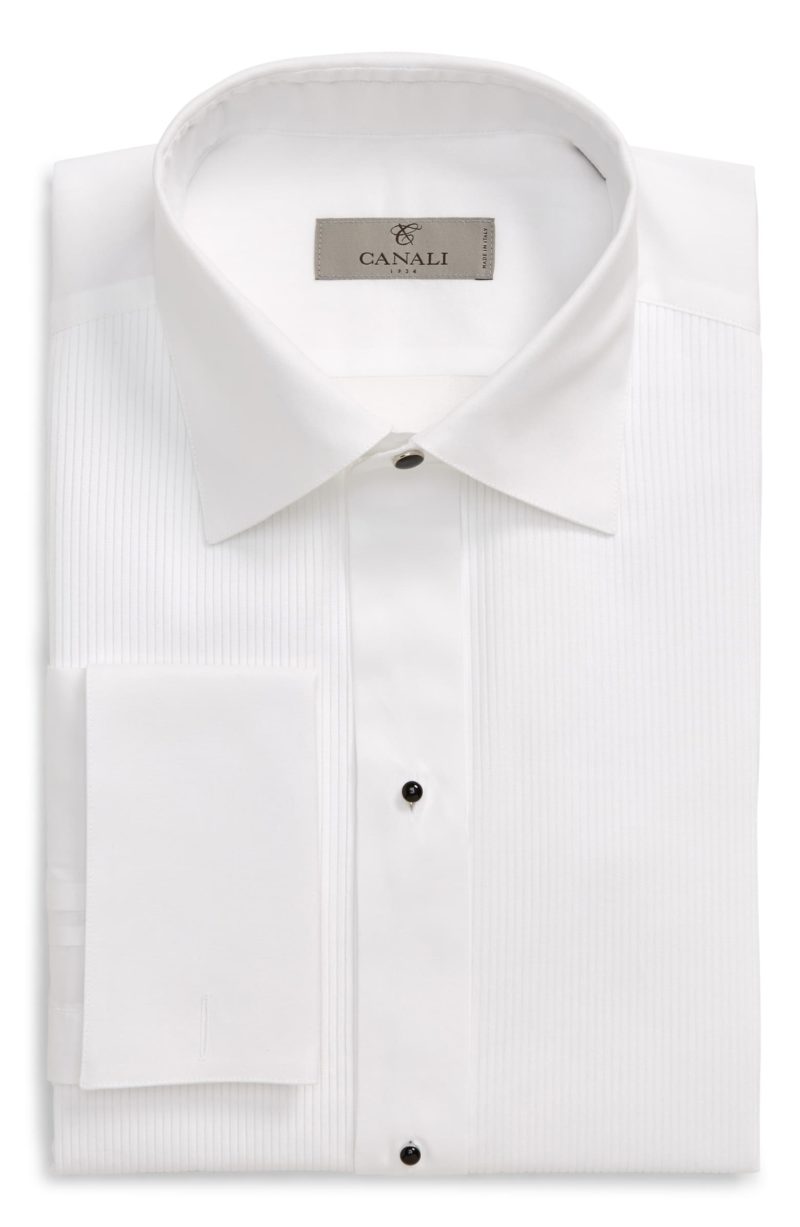 Trousers
Tuxedo trousers/pants really do go a long way. Tiger of Sweden has some great options with a great fit, look snazzy and are pretty darn comfortable too.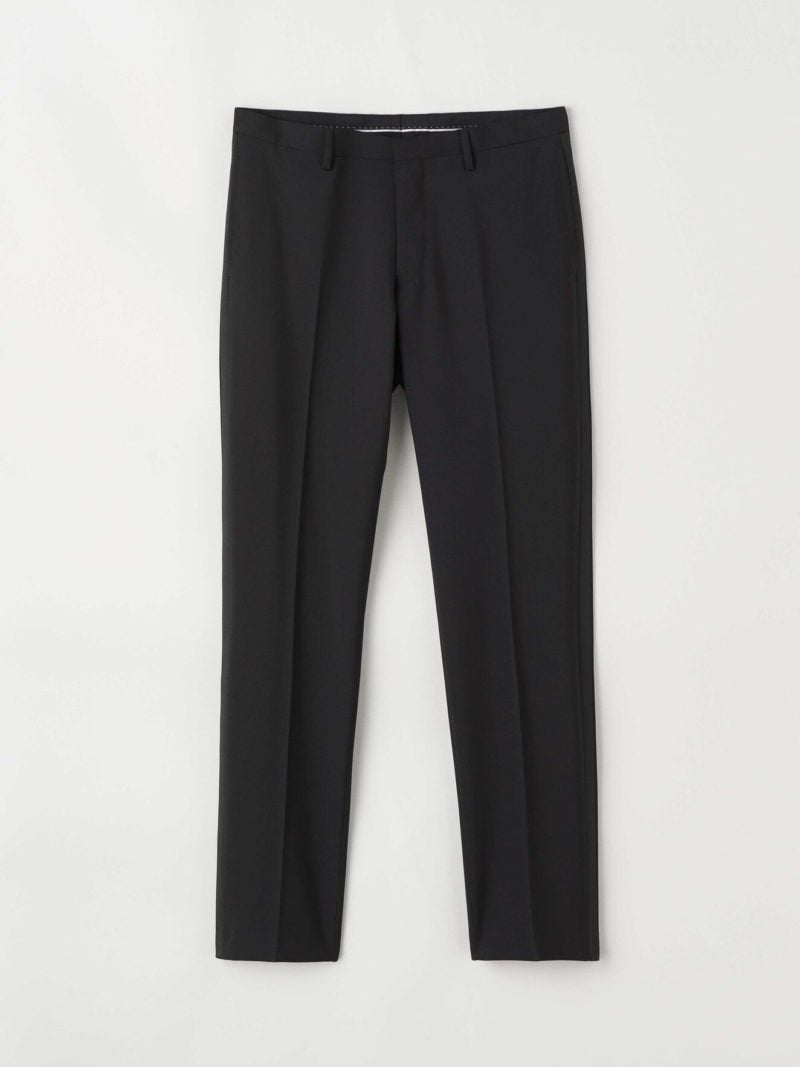 Shoes
Surprisingly, these bad boys are quite affordable. Nordstrom's in-house brand, BP. recently released these velvet loafers, and we're diggin' them. They are soft to the touch, fit great, and look fantastic. If you are really daring, you can even match them to your jacket, because they come in a couple colours too.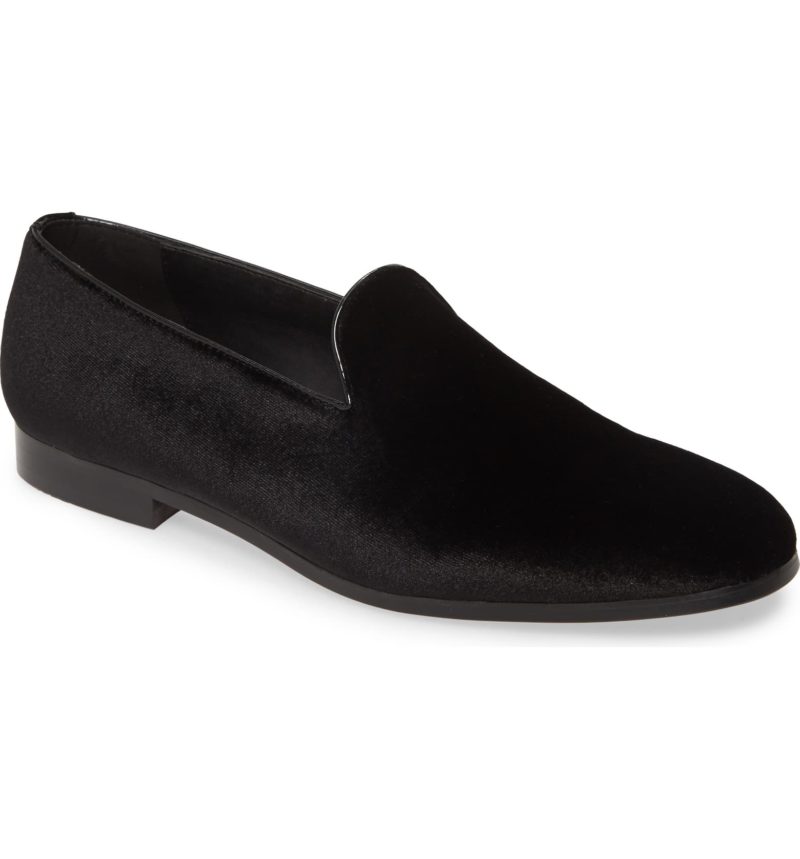 Accessories
You know how I feel about accessories, and with a look like this, you don't want to overdo it. Worried about damaging the silk with the pin? No worries, test out my pro tip with a tie clip on the right side and away you go. Don't forget about the bowtie. If you really want to impress, pickup a self-tied bowtie. Trust me, they're more noticeable to the fashionista than you thing. You will be bound to get a couple compliments. This one here looks great, feels greater, and comes in a variety of colours to pair, or keep it simple with a black bowtie too.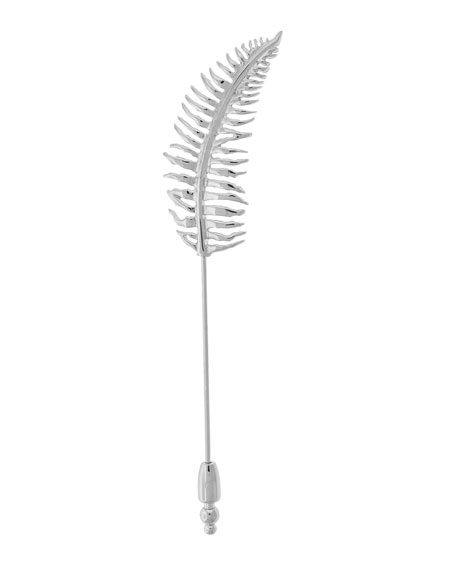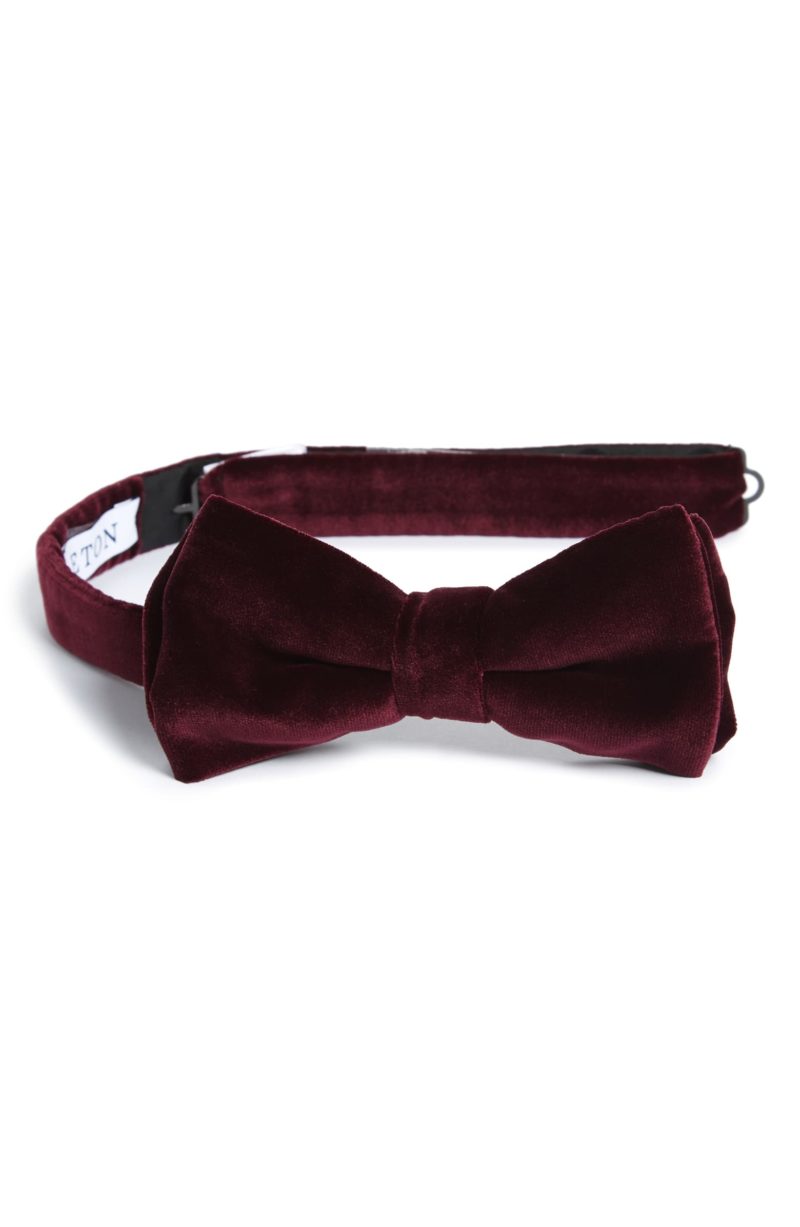 Notable Mens
The fun doesn't end here, these are just examples. It's more about the principle, or the styling direction than anything. There are lots of options out there, but I hope that now you have what it takes to go out there and piece together your looks.
Some of my personal favourites to shop at, as you can see above, particularly around the holidays are: Nordstrom, especially now that they have Suit Supply in select stores, Club Monaco, Holt Renfrew, Bergdorf Goodman, RW & Co., Ted Baker, Simons. For those affordable last minute finds, Zara and HM can do the trick, and Aldo and even the Nordstrom Men's shoe department for those complimentary kicks. If you're looking for something a little more "fitted" and by that I mean, fitted right, then our friends at Alfred Sung Bespoke, or Indochino if you're really on a budget but want to make the most of it.
Don't forget to tag us @SwaggerMag and use #SwaggerGents for a chance to be featured.
Yours with Swagger, wishing you a Happy and safe Holiday Season.