Donr's text giving platform helps raise money for Pudsey
Newcastle, 14th November, 2019: This year's Children in Need has seen text giving become a vital fundraising tool. A number of large corporates, that raise money through a combination of staff initiatives and customer donations have embraced Donr's text giving platform for this year's fundraising efforts.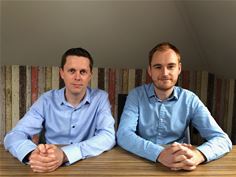 Donr Founders
Donr is supporting over 450 Enterprise Rent-a-Car (https://www.enterprise.co.uk/) branches nationally, 123 Cineworld (https://www.cineworld.co.uk/) sites and thousands of drivers and instructors who are 'reaching for the moon' as part of the Big Leaner Relay (http://www.biglearnerrelay.co.uk/) for this year's Children in Need.
"Fundraising is becoming more and more digital and fundraisers are seeing text giving as a vital tool to help them raise money from the digital generation, even for established and traditional events such as Children in Need," said Chris Newell, CEO of Donr. "What is great about our text giving platform is that it can be adapted to suit the requirements of the fundraiser, as we can see from how it being used for this year's Children in Need."
The Big Learner Relay has a proud tradition of supporting Children in Need, having raised nearly £425,000 since 2014. This year they are 'reaching for the moon' as they relay their Pudsey top box (the kind that driving instructors have on the roof of their cars) from one driving lesson to another around the country, ending up at the National Space Centre in Leicester on Friday 15th November.
Big Learner Relay is asking donors to text 'MOON' to 70085 to donate as the Pudsey top box travels over 3,000 miles around the UK. Donr has also set up keywords that will allow individual driving instructors to run their own fundraising projects.
Cineworld has been running a short fundraising film ahead of all its main features on all screens across the UK. That film asks the cinema audience to text 'CINECIN' to 70085 to donate on their phone while they are in their seats eating their popcorn.
Each Enterprise Rent-a-Car branch has been set up with a donation keyword as the staff raise money through activities from skydives, to treks, to fundraising evenings. With individual keywords on the Donr platform, branches and regions can compete against each in friendly rivalry to raise more money for Children in Need.
"Text giving is a vital part in all of these fundraising efforts," continued Newell. "For Cineworld text giving was the only way for people that had already sat down to enjoy a film to donate. While for Enterprise Rent-a-Car the flexibility of our platform means that they can have 450 different, unique donation methods, adding in the competition element and making this more fun for staff, while at the same time raising more money."
BBC Children in Need exists to change the lives of disadvantaged children and young people across the UK and has raised over £1 billion since its first major Appeal in 1980. This year's appeal show is on Friday November 15th, although people can donate – either to the fundraising appeals above, or to any other Children in Need campaign – at any time.
This week, Donr also launched a crowdfunding campaign – aiming to further disrupt and democratise the tech-for-good space. Donr's platform and digital skills mean they level the playing field for charities of all sizes, helping them to maximise their impact on society. Interested investors can see more – and invest – at www.crowdcube.com/donr.
– ENDS –
Notes To Editors
Social Media Profiles
Big Leaner Relay – https://twitter.com/big_relay
Cineworld – https://twitter.com/cineworld
Enterprise Rent-a-Car – https://twitter.com/UKEnterprise
Images can be found at – https://www.dropbox.com/sh/7rg82i4a9su49a7/AADHhIMG3lpvLJ21P-i25Kcda?dl=0
About Donr
Donr (www.donr.com) allows a charity's supporters to donate in as little as 15 seconds, using pioneering mobile donation technology.
Donr is a tech-for-good organisation that builds technology to handle the challenges charities face and inspire their fundraising efforts. Donr charges a fair fee which is invested in the platform and tools to lower the cost of fundraising for the charities it supports.
Donr is currently crowdfunding through Crowdcube, to help it further disrupt and democratise the tech-for-good space. Find out more at www.crowdcube.com/donr.