November 12, 2019 – Every day, people endeavor to do their part for the environment – they carry reusable bags to the grocery store, recycle plastic bottles and cans, circulate news stories of the poor whale who died after swallowing 88 pounds of plastic, join protests for climate change, donate monthly to their favorite causes, or volunteer their weekends to clean the beach. Now, there is another way they can contribute by doing what they regularly do – search the Internet.
By changing your search engine to ekoru.org, you are immediately making a difference. Every search you do raises money for the planet. Browser extensions are available for Chrome and Firefox desktop browsers, and an Android search application is available for mobile users. ekoru is partnering with several organizations that work on animal welfare, reforestation, ocean conservation, and climate change policy. Each month, one of these organizations will be highlighted.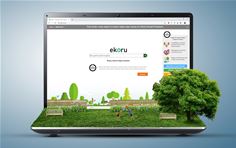 ekoru green computer
In November, ekoru will partner with World Animal Protection, donating 60% of all revenue to the organization in support of animal welfare. World Animal Protection works globally to protect animals in communities, in disasters, in farming, and in the wild. Donations can make a life-saving difference for vulnerable animals.
"We are excited to have been selected as the benefiting charity for the launch of the ekoru search engine," said Alesia Soltanpanah, U.S. Executive Director of World Animal Protection. "This honor will not only help raise funds to help protect animals around the world, it also helps show users how they can make a difference through simple, everyday activities like surfing the web."
ekoru generates revenue, just like any other search engine, through the use of sponsored links which appear above the search results. If a sponsored link is clicked on by a user, ekoru receives income from that action. Sixty percent of the revenue received is donated to charities related to the cause for the month.
"We've had years of experience building messaging, analytics, location, and search platforms for mobile operators and internet service providers. We decided to use our skills to contribute to the betterment of society and contacted some charities. That kickstarted ekoru, a search engine that saves the planet," said Ati Bakush, Chief Executive Officer of ekoru.
Privacy is important to ekoru. User searches are all anonymous, no search history is retained, and every search is private. Zero data is retained on our servers. In the name of transparency, ekoru is committed to publishing the monthly amount donated to each charity along with donation receipts.
ekoru is designed to work across all devices including desktop, mobile, and tablet. The search engine provides high quality results for web, image, video, and news content.
About ekoru: ekoru was started by a team of developers with years of experience building messaging, analytics, location, and search platforms for mobile operators and internet service providers.
The koru swirl is a New Zealand Maori symbol for regeneration and new life represented by an unfurling silver fern leaf. That is ekoru's mission: to regenerate and provide a new lease of life for our planet.
All ekoru servers are housed in eco-friendly data centres to ensure that our user searches have a minimal impact on the environment. The data centers used are cooled passively by airflow and water with zero reliance on air-conditioning.
For more information on ekoru, please contact Alison Lee at [email protected].