Jill Weinlein
Guests staying at The Venetian and Palazzo Las Vegas feel as if they have been transported to Venice, Italy. Replicas of St. Mark's Square, Palazzo Ducales or Doge's Palace, the Sistine Chapel, and the Rialto Bridge, are all stunning examples of Italian architecture.
Take in the awe-inspiring sights of both resorts by gliding down the Grand Canal on a gondola. Gondoliers serenade guests while propelling a wood oar through the water. There are outdoor gondola rides and interior rides that meander through the renowned Grand Canal Shoppes. This is the only area on earth where you can window shop while gliding in a boat.
The interior of this area in The Venetian Grand Canal Shoppes offers sky blue and puffy white clouds on the ceiling giving the illusion of being outdoors.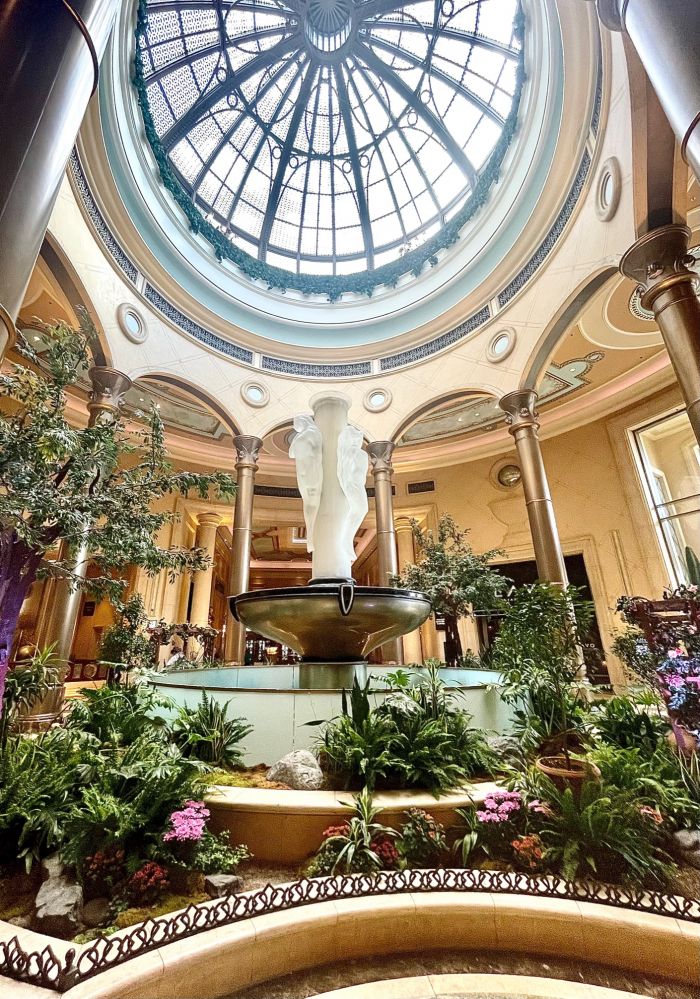 Jill Weinlein
Guests walking into the Palazzo Lobby to check-in will notice the majestic water sculpture 'Acqua di Cristallo'. This soaring statue occupies two levels featuring translucent women carved on four sides by sculptor Samuel G. Bocchicchio. The garden lights cast color up to the statue and in the grand lobby of the hotel.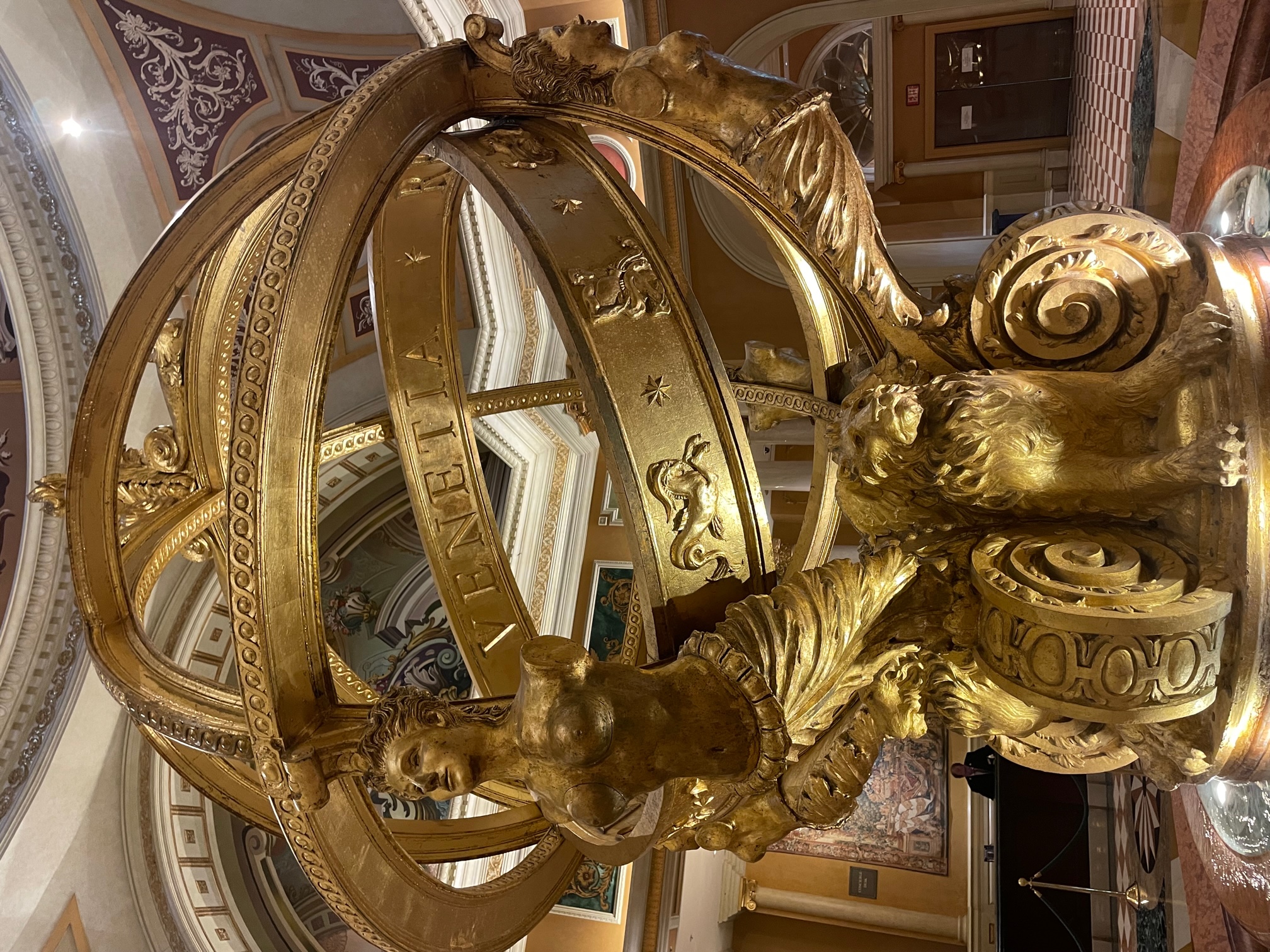 Jill Weinlein
At the entrance of The Venetian is the Armillary Sphere, a grand reminder of the Renaissance spirit. This helped guide scholars and statesmen of Venice, Italy.
This beautiful replica of this instrument carried out all sorts of calculations, such as sunrise and sunset, the length of day, and movements and relative geometry of the stars, moon and sun.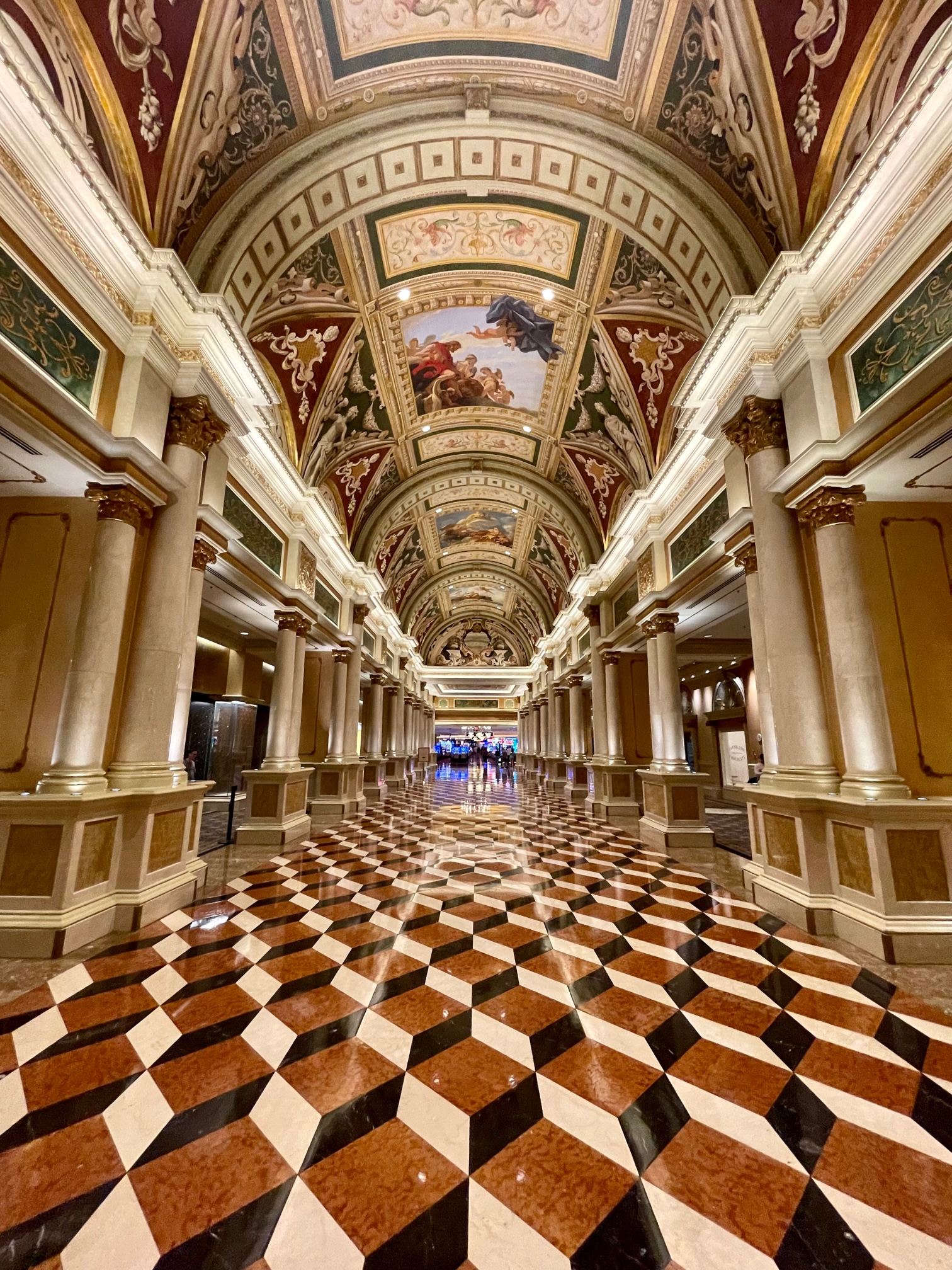 Jill Weinlein
While strolling through the Venetian Resort entrance, admire a replica of Michelangelo's Sistine Chapel. The columns and flooring are art worthy, and when you look up at the hand-painted ceiling, this Grand Colonnade offers a reproduction of the Italian artist's greatest stories ever told. The Creation of the Heavens and Earth, Adam and Eve and the story of Noah and the Great Flood are featured above.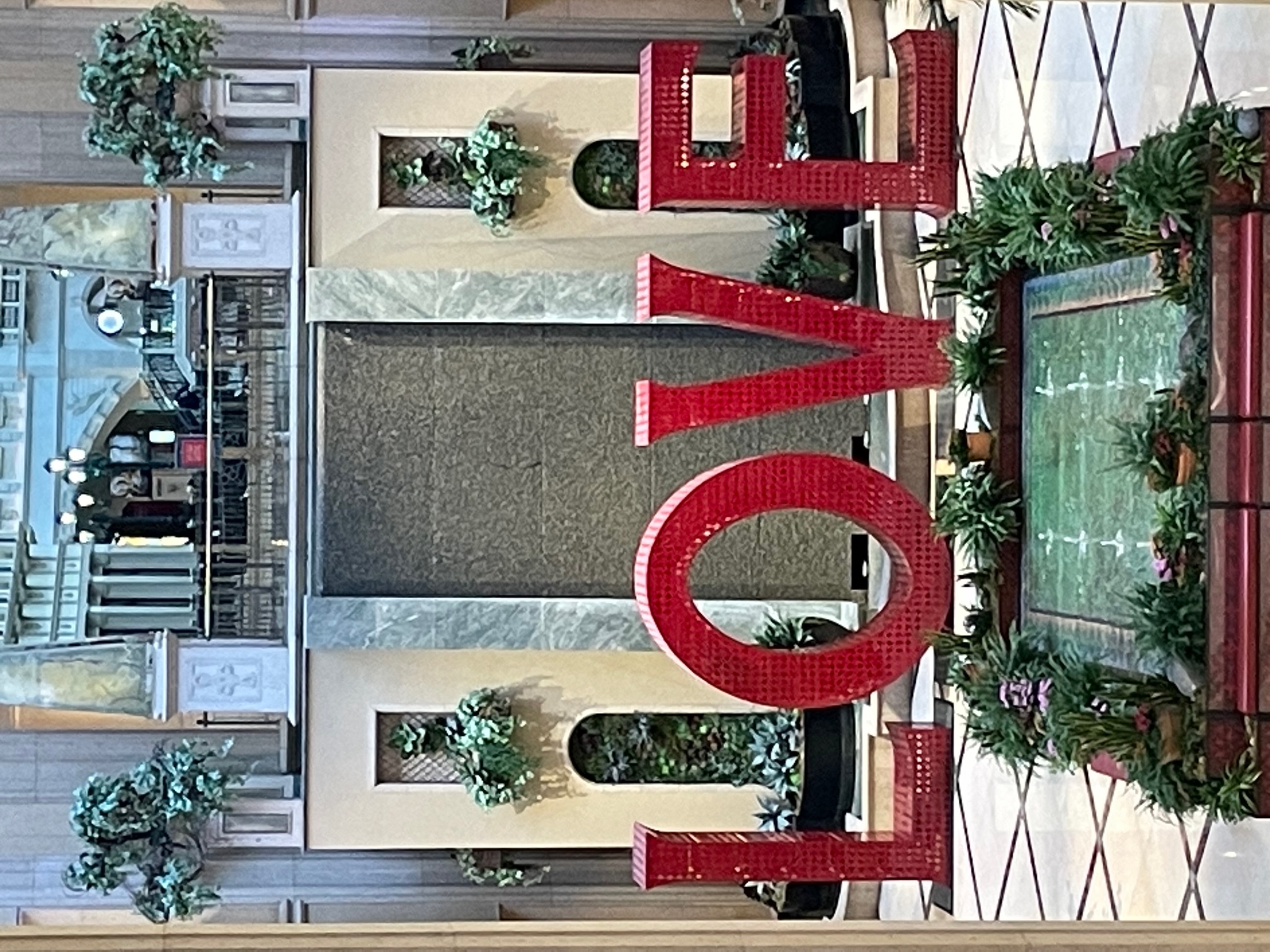 Jill Weinlein
The steel red letters that spell out LOVE near the entrance of the Grand Canal Shoppes are by celebrated California-based artist Laura Kimpton. This piece is part of her Monumental Word Series. 
Rising 12 feet tall and 36 feet across, this is a popular photo venue for selfies, couples and family photos. According to the artist, "LOVE is about being free to love who you want, the way you want. She used bird shape stamps in each metal letter to represent being able to follow your dreams.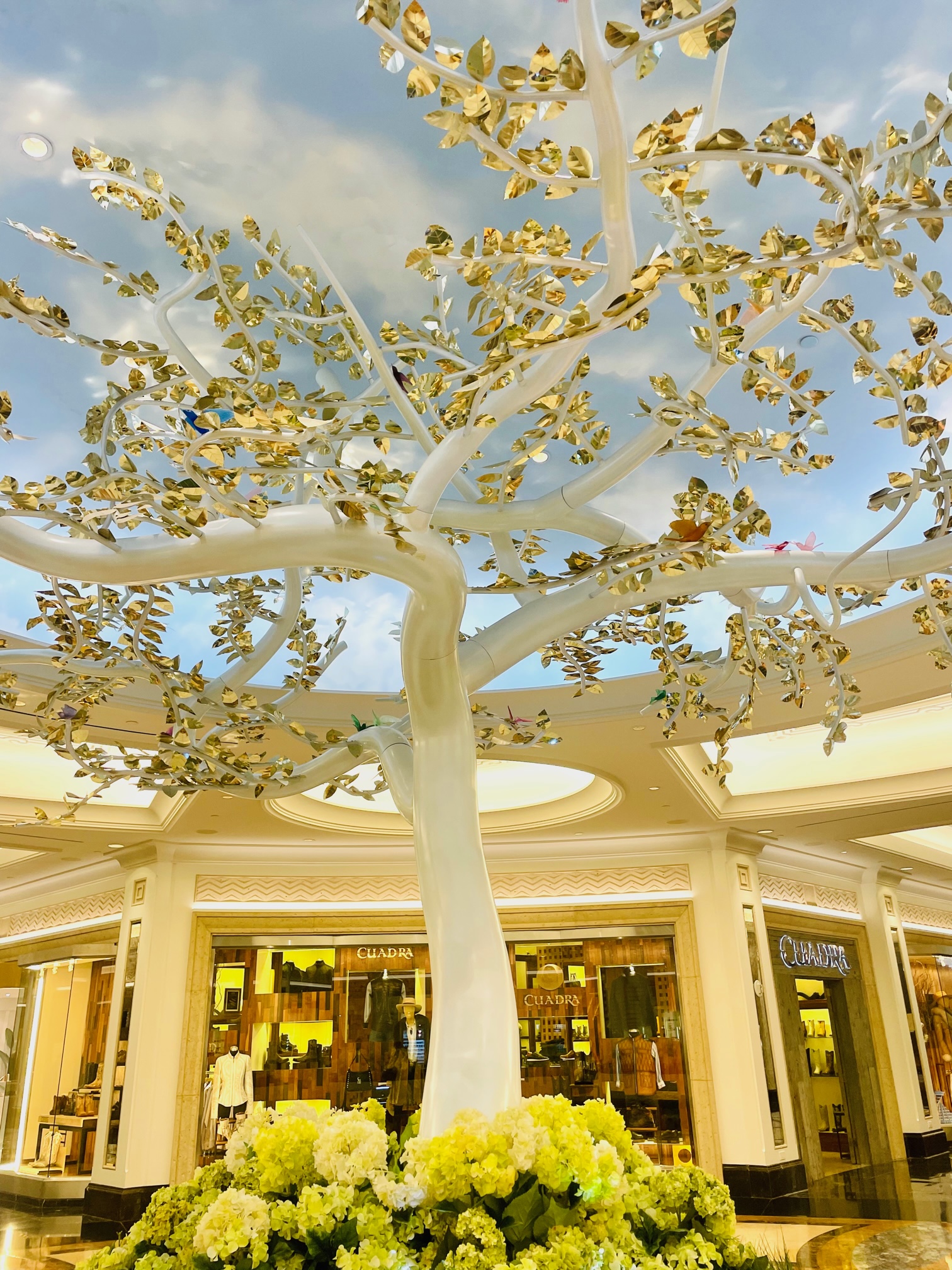 Jill Weinlein
In the Luxury Wing of the Grand Canal Shoppes is the beautiful Wishing Tree. "It's one of the most prized installations," said Torri Ishida, Entertainment and Special Events Manager at Grand Canal Shoppes. Guests stop to admire this white tree with a canopy of gold leaves to make a wish. The vibrant blue, yellow and red colored glass birds made in Italy, are strategically perched on branches. Comfortable chairs are placed around this Italian palazzo for guests to relax and reflect.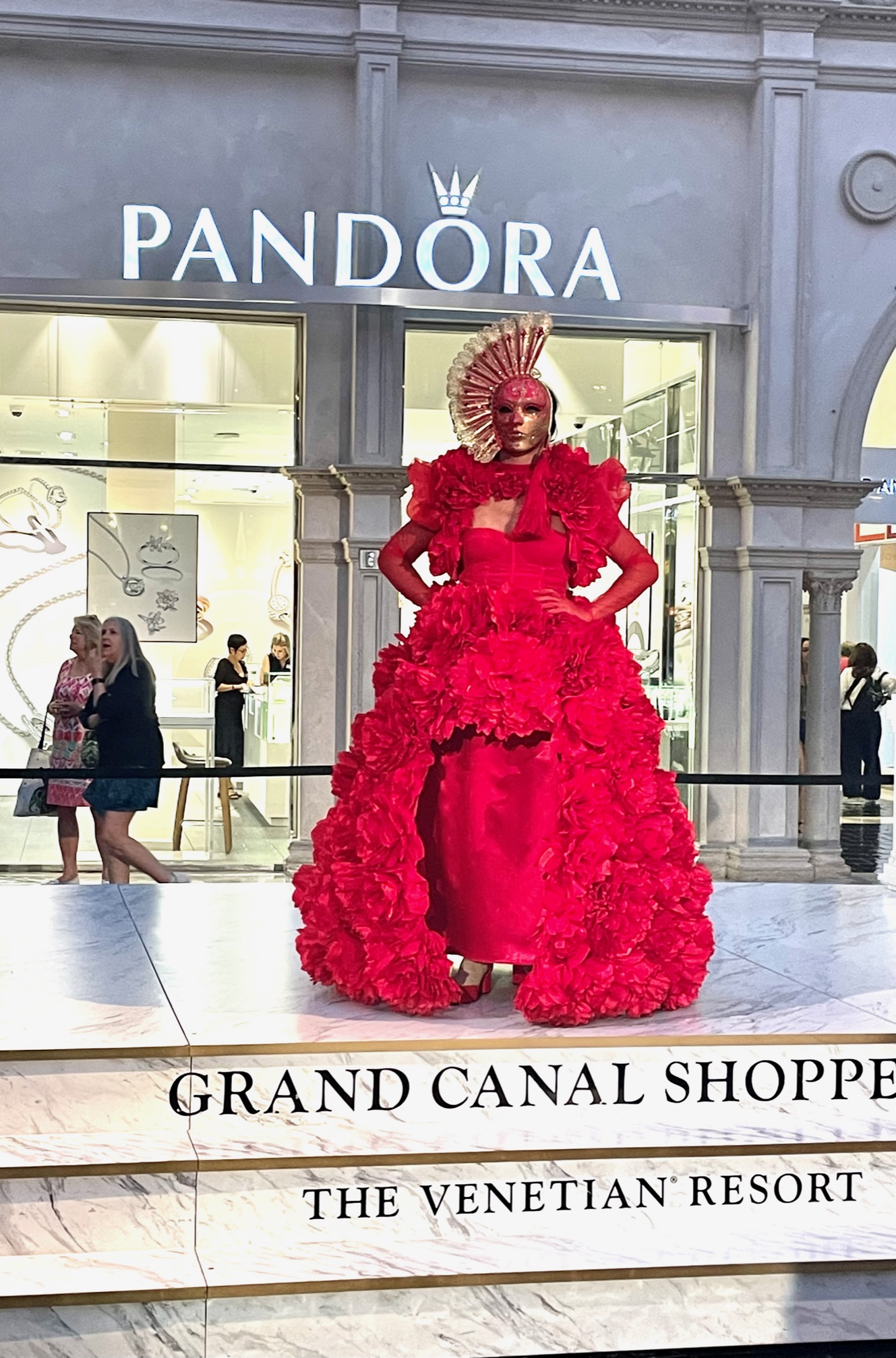 Take a break during the day to admire the Streetmosphere performances located inside the architecturally stunning St. Mark's Square. Bistro tables and chairs are available on the cobblestone-like square to sit and watch the free to all show. Classically trained opera singers wearing historical clothing, and strolling musicians entertain visitors throughout the day.
The performers sing current pop-favorite songs in Italian and classic arias. Afterward, a stunning avant-garde living statue model wearing Venetian couture takes the stage and strikes a pose. The luxury gown has over one hundred hand-sewn flowers, and the artisan's mask is from Italy.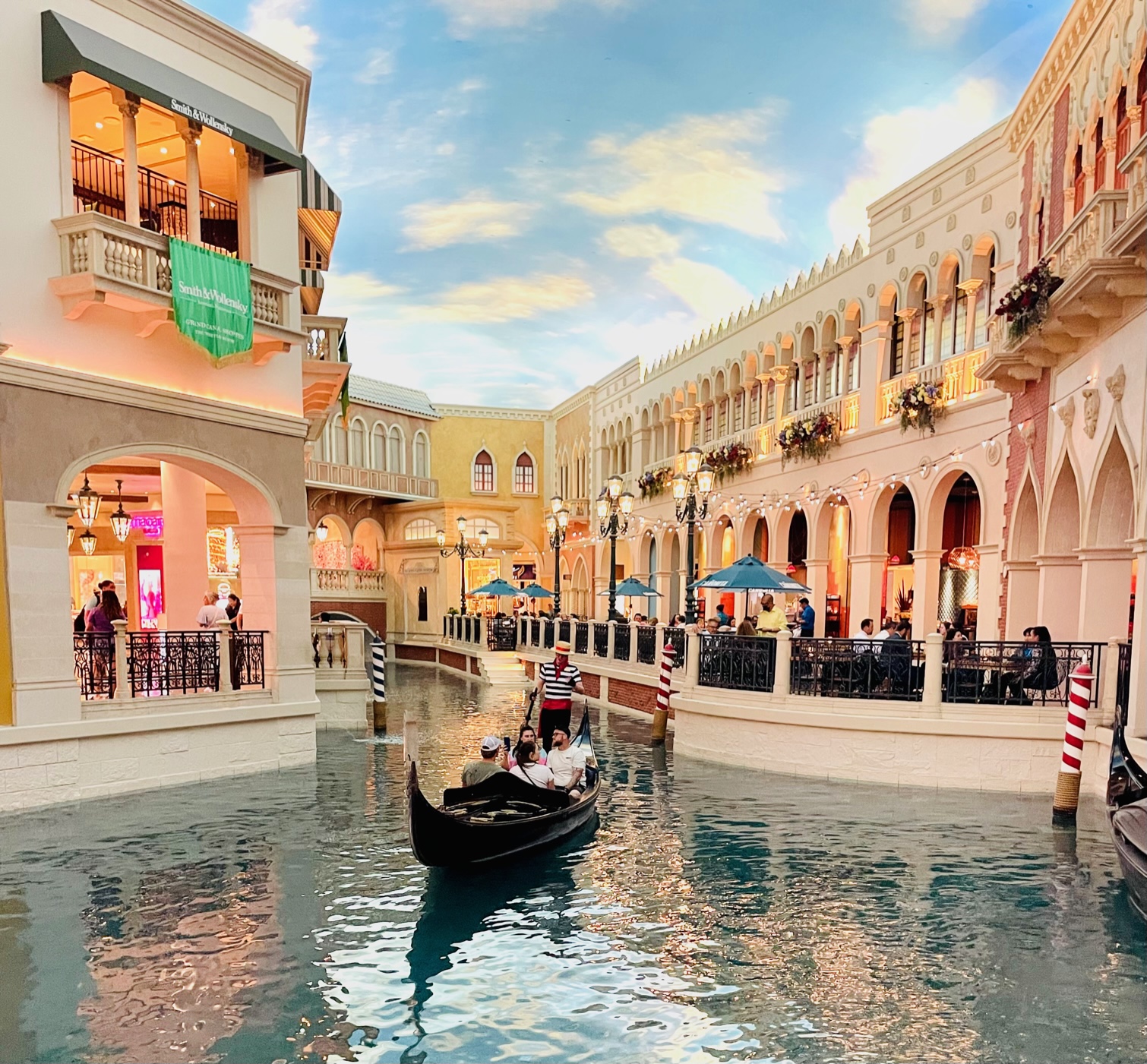 Jill Weinlein
Throughout the Grand Canal Shoppes is Renaissance architecture, known for its facades, large arches, abundant columns, and famous Palladian windows with shallow arches flanked by two smaller columns.
This is a popular dining spot to take in the sights and watch and hear the performers and gondoliers. 
Canonita has tables overlooking the boats and people gliding by on the canal. This restaurant offers traditional Mexican fare and craft cocktails.
For Italian plates, sit at one of the tables at Canaletto. Not only do they offer window views from their ground level dining room, but also up on the second level overlooking the Grand Canal. Their front outdoor terrace overlooks St. Mark's Square, and is a great spot to hear the Streetmosphere opera singers and musicians.
Fun Fact: During a Streetmosphere show, one of the opera performers enters Canaletto Ristorante to climb the stairs to stand on a balcony overlooking the Square. She and her suitor sing a romantic aria to each other, projecting across St. Mark's Square for all to hear.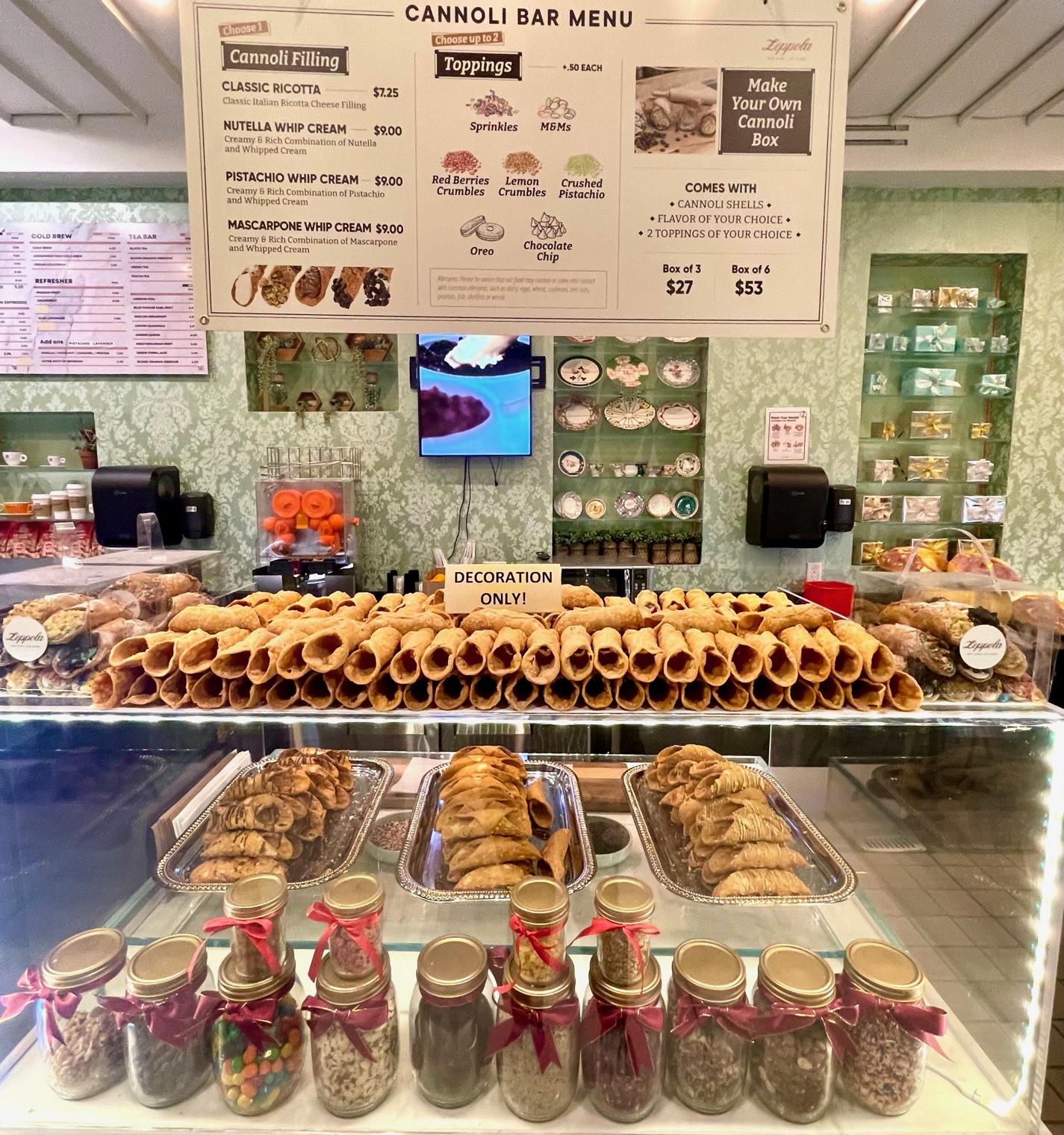 Jill Weinlein
Stop at nearby Zeppola Cafe for a coffee and pastry. It's famous for it's work-of-art pastries from grandmother Eugenia. Her traditional cream filled Italian donuts called bombolon, sell out most days, so go early. Eugenia brought the beloved recipe from Italy to New York City and now to Las Vegas. The bakery also has a cannoli bar for guests to select enhancements for a custom cannoli flavor.
Fun Fact: Zeppola Cafe has a second floor dining room where guests can sit at a window table and look down on the activity in St. Mark's Square.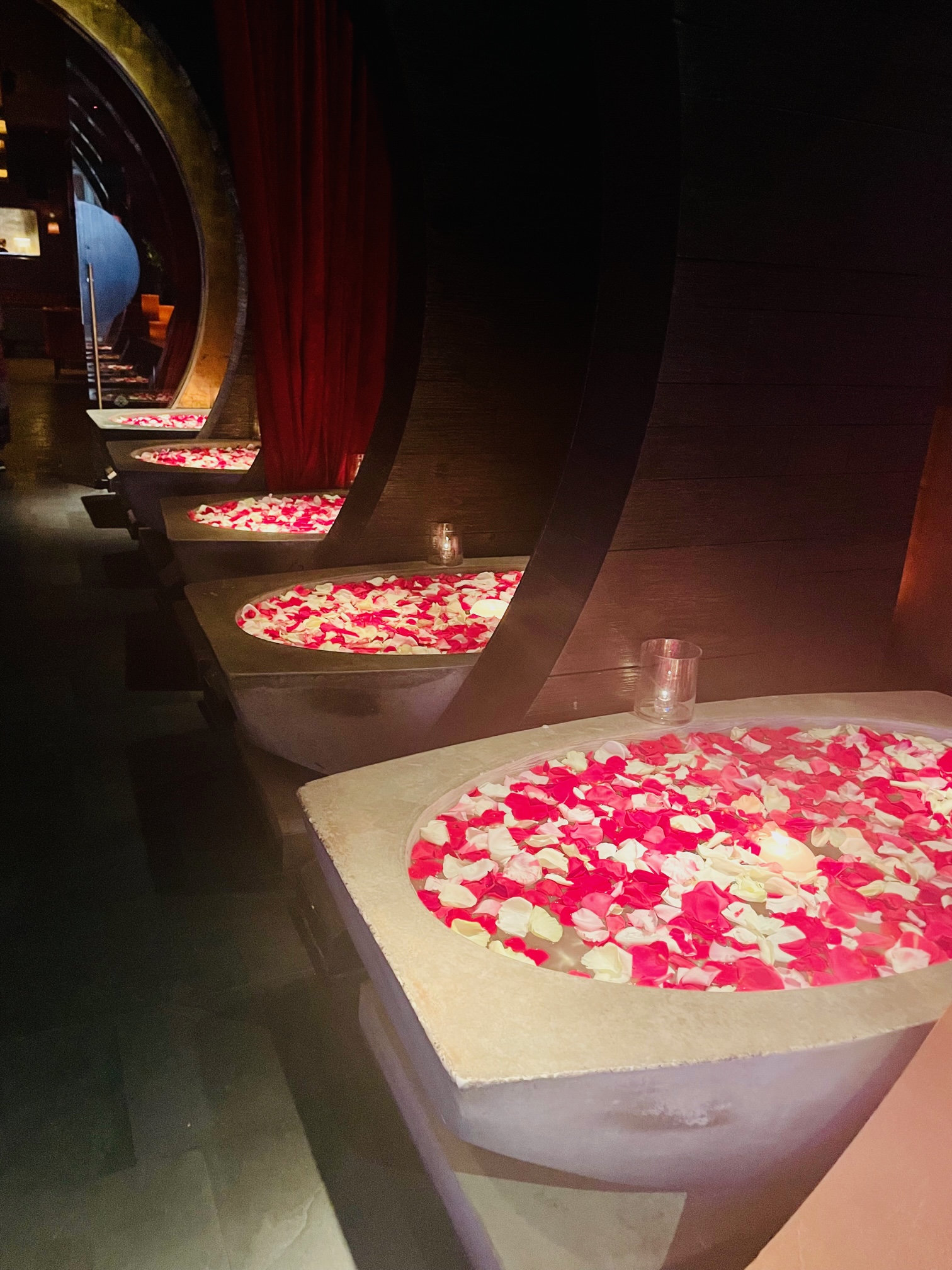 Jill Weinlein
Art is everywhere you look when you dine at TAO Asian Bistro and Nightclub inside The Venetian. The entrance offers rows of concrete tubs filled with water and beautiful floating rose petals. Once inside the 40,000 sq. ft. bar and dining area, Asian sculptures adorn the walls and rest near cozy booths. The most striking art is a giant Buddha as the centerpiece of the restaurant sitting among flicker candles. Open daily, reservations for dinner start a 5 p.m.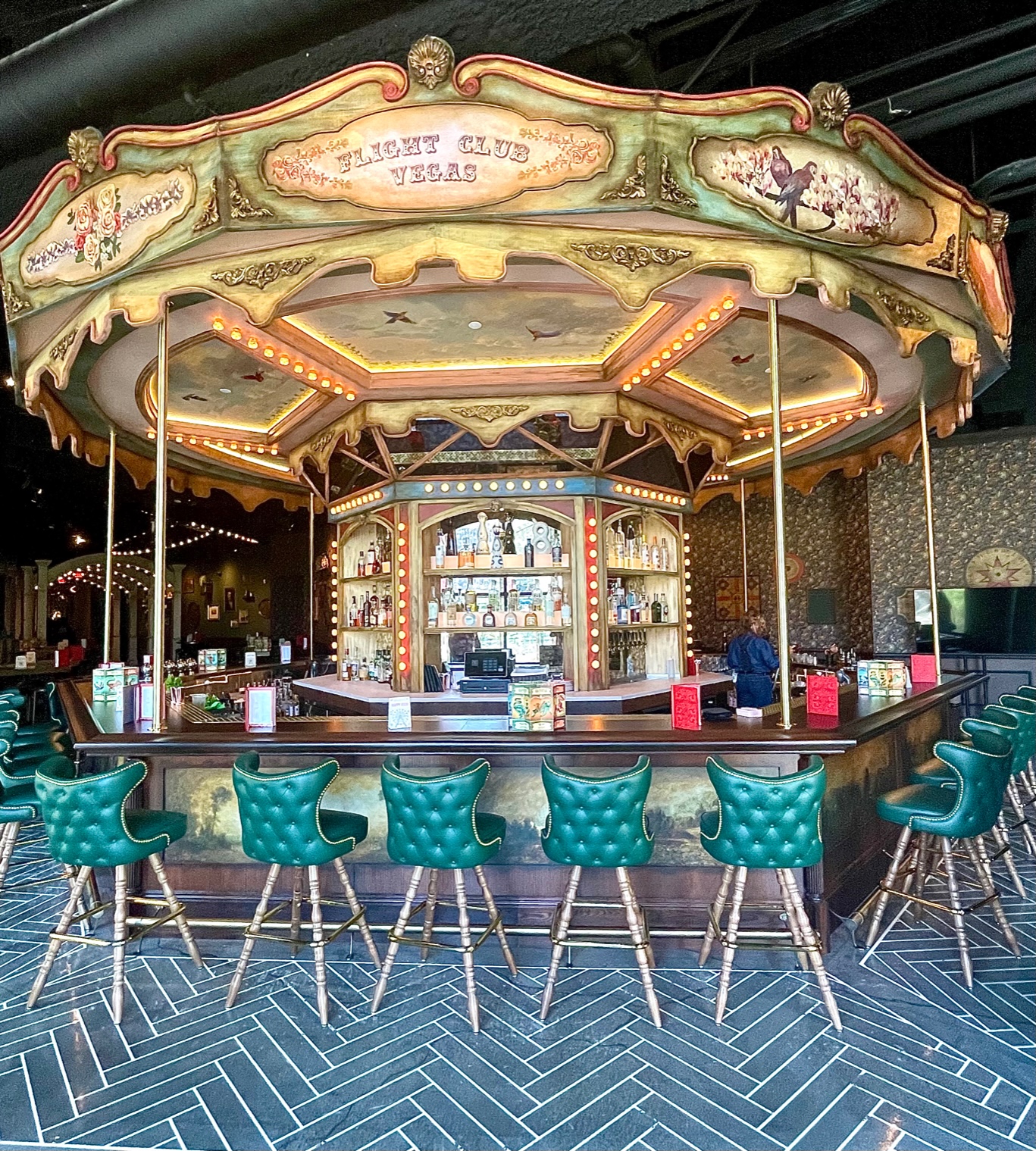 Jill Weinlein
The newly opened 17,000 sg.ft., Flight Club Dart Social is a British import transported to Las Vegas. It's unlike anything you have ever seen, designed to represent British fairgrounds. Reserve an open, semi-private or private Oche play area. They are available to reserve for 90 minutes of playtime. Follow the video instructions and score to play a variety of different dart games. 
Located in the center of the venue is a hand-painted antique looking Carousel Bar. Flight Club has revolutionized the dart-playing experience by providing custom crafted cocktails and elevated pub food. Award winning Mixologist Peter Vestinos from Chicago created an array of photo-worthy botanical drinks. The chefs in the restaurant prepare savory and healthy shareable bite-sized fare during lunch, happy hour and dinner.
Fun Fact: The word Oche, rhymes with 'hockey' and is the name of the three lines in the social dart playing area. Guests stand on one of the lines, depending on their skill level to throw. Beautiful wood counter space in each area allows dart throwers to eat and drink while playing a fun and competitive game.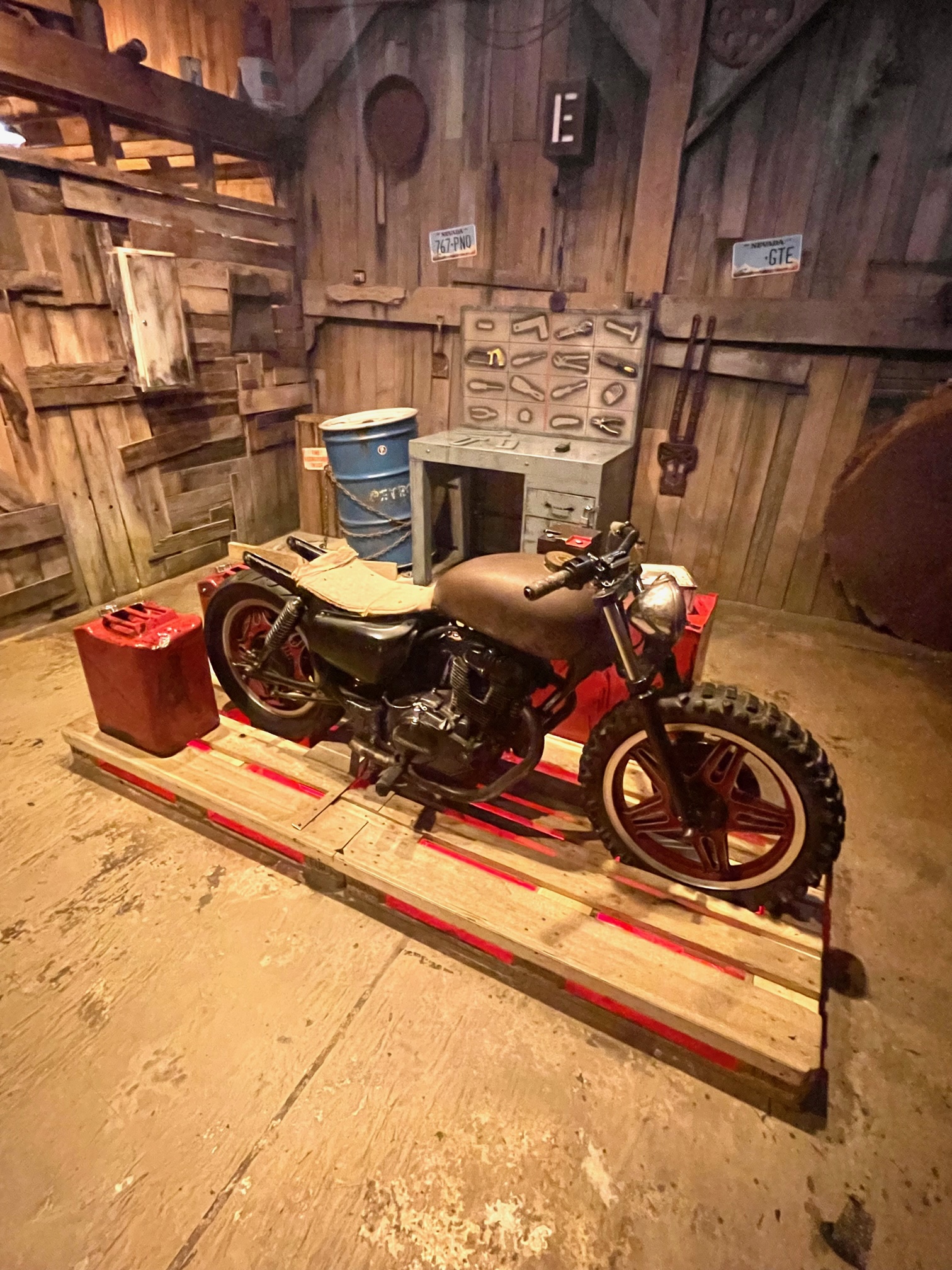 Jill Weinlein
Another 'Disneyland' style venue at The Venetian is PANIQ Escape Room & Lounge. Located at the entrance of Grand Canal Shoppes, the manager, Cheryl Ellis creatively helped to design the challenging puzzles inside each artfully decorated high-end Escape Room. 'Each of the different theme rooms are movie set quality. We have props designed by skilled entertainment designers,' said Ellis.
Participants learn the art of wizarding magic and survive a zombie apocalypse during a 45 minute session. "Some guests finish one room and then rebook another one to solve new puzzles,' said Ellis. 'Participants must accomplish tasks in one or more rooms as the clock counts down, 'escapers' must find clues, solve the brainteasers, outwit others and get out in time.
The realistically looking Time Machine is a family-friendly room where participants assist in the reactivation of Professor Hoffman's Time Machine which has been stuck in a time loop for decades.  Wizards Trials is a Harry Potter-style room where participants are apprentices to Master Diaphugius, the greatest name in wizardry.
The Zombie Outbreak is the scariest room due to its design and jump scare moments. This is one of the largest rooms that can accommodate up to 10 guests. 'Zombie Joe' is locked in the rafters, and puzzle solvers receive clues to finally jump onto a motorcycle to escape.
PANIQ Escape Room experiences start at $35. Fun Fact: A 'Zombie Joe' sits in a booth in the bar and lounge area for great photo opportunities. He is a prop from the designers of 'The Walking Dead'.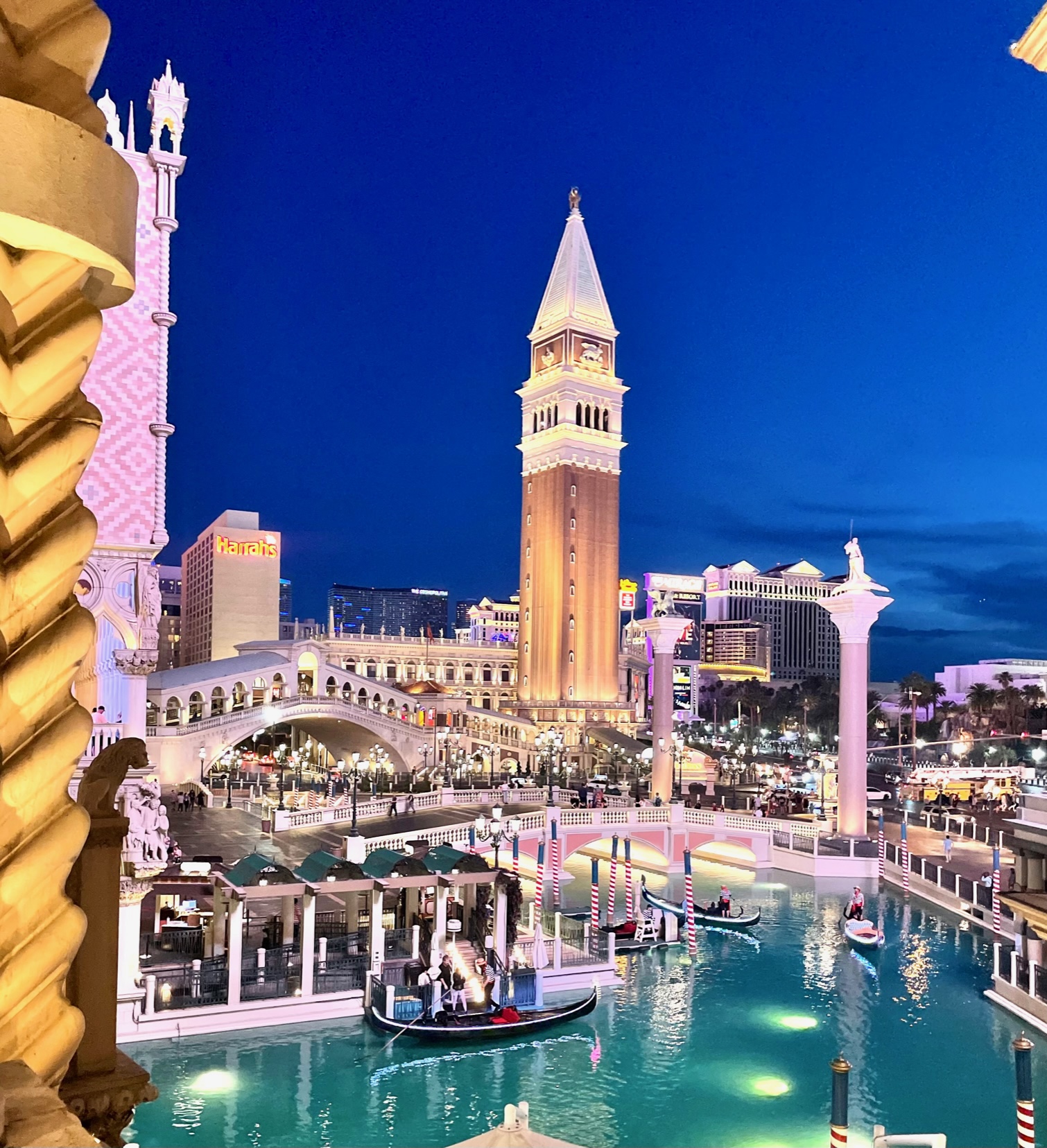 Jill Weinlein
Both the Venetian and Palazzo offer beautiful design elements everywhere you look. Take a break from the Casino, and stroll along the cobblestone-like streets to feel as if you are in Venice, Italy.