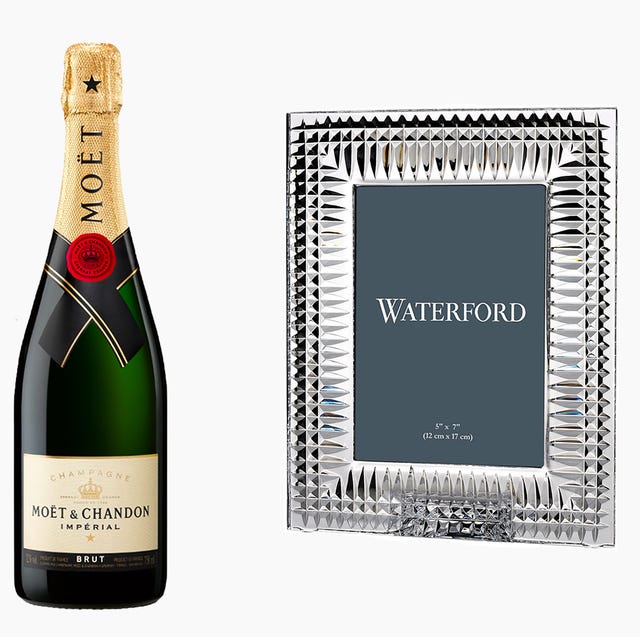 Courtesy
While things may feel stuck at a standstill, there are some couples who are not letting anything stop their love. Proposals are still happening amidst a pandemic, and we cannot be happier for those making the best out of a grim situation. After all, we can use some good news these days. Typical engagement parties on pause right now, but that doesn't mean you can't celebrate the occasion by mailing the couple a sweet gift. From a breakfast-themed cookbook to a chic wine decanter, we rounded up fifteen thoughtful engagement gifts ahead.
1 of 15
Wine Decanter
Doing grown-up things like getting married means it's time for a sophisticated wine decanter. 
2 of 15
Breakfast: The Cookbook
Phaidon
phaidon.com
$49.95
The most important meal of the day should have plenty of options. From sweet to savory, these recipes will help the couple create dishes from all over the globe. 
3 of 15
Table Topics
UncommonGoods
uncommongoods.com
$25.00
There's never an awkward silence between them, but this fun table game will help bring on new conversations. 
4 of 15
Lismore Diamond Lead Crystal Picture Frame
Waterford
nordstrom.com
$90.00
Engagement photos will fit beautifully in this crystal frame. 
5 of 15
Hot Air Popcorn Maker
Cuisinart
bedbathandbeyond.com
$39.99
Take their movie night to the next level with an official popcorn maker.
6 of 15
Personalized Candle
The Little Market
thelittlemarket.com
$42.00
Commemorate the pair with this personalized candle— you can even choose their signature scent.
7 of 15
Tying The Knot Panama Notebook
Smythson
smythson.com
$79.00
This notebook will keep track of every single detail they make while planning for the big day.
8 of 15
Five Two Wooden Spoons
Food 52
food52.com
$99.00
Every kitchen needs a good set of wooden spoons.  
9 of 15
Moët & Chandon Impérial Brut
Moet & Chandon
reservebar.com
$51.00
A toast to love, happiness, and a great life together.
10 of 15
Footed Cake Stand With Dome
Crate & Barrel
crateandbarrel
$59.95
11 of 15
Resurrection Aromatique Hand Wash & Hand Balm Duet
Aesop
nordstrom.com
$125.00
The couple that washes their hands together, stays together.
12 of 15
Hug Salt and Pepper Shakers
13 of 15
Smell The Roses Ring Dish
Over The Moon
overthemoon.com
$75.00
The prettiest dish for a super special ring.
14 of 15
Vertuo Coffee Maker & Espresso Machine
Nespresso
williams-sonoma.com
$249.95
Their days together will start off better with coffee brewed from this top of the line machine.  
15 of 15
Black Truffle Infused Hot Sauce Set
Truff
huckberry.com
$32.98
May the relationship always stay spicy and unexpected.
Advertisement – Continue Reading Below
This content is created and maintained by a third party, and imported onto this page to help users provide their email addresses. You may be able to find more information about this and similar content at piano.io